Nineteen new machines from 2 tonnes to 53 tonnes for Tier 2 and Tier 3 markets worldwide
DEVELON, formerly Doosan Construction Equipment, have completed the launch of the 19 models listed below as part of the company's latest-generation DX-7M range of tracked excavators from 2 tonnes to 53 tonnes for Tier 2 and Tier 3 markets worldwide. 
DX27Z-7M and DX35Z-7M 2–3-tonne mini-excavators

DX200A-7M, DX210-7M, DX220LC-7M and DX220AF-7M 20–22-tonne crawler excavators

DX225LC-7M and DX225LCA-7M 22-tonne crawler excavators

DX300LC-7M, DX300LCA-7M, DX360LC-7M and DX360LCA-7M 31–37-tonne crawler excavators

DX400LC-7M, DX450LC-7M and DX450LCA-7M 41–45-tonne crawler excavators

DX490LC-7M, DX490LCA-7M, DX530LC-7M and DX530LCA-7M 49­–53-tonne crawler excavators.
The new excavators are designed for a wide range of applications including construction, recycling, waste processing, mining, and quarrying. From the smallest model in the range, the 2.8-tonne DX27Z-7M mini-excavator, to the largest, the 53.5-tonne DX530LC(A)-7M excavator, the DX-7M models are all said to offer significantly improved performance compared with the previous-generation machines. This is due to many enhancements including more powerful engines and new, higher-flow hydraulic systems.
The 20-tonne DX200A-7M excavator and all the larger excavators from the DX300LC(A)-7M upwards incorporate Develon's Virtual Bleed Off (VBO) cutting-edge technology. The VBO system utilizes an electronic pressure-controlled pump within a closed-centre hydraulic system for productivity increases of up to 17% and fuel-efficiency improvements of up to 32%, depending on the model and the mode selected. The closed-centre main control valve minimizes pressure loss, while the electronic pressure-controlled pump manages and optimizes engine power more effectively.
Improved feedback to the operator through the joystick is said to result in enhanced machine control and less operator fatigue, whilst the acceleration and deceleration of the excavator workgroup functions are smoother, allowing operators to perform repetitive swinging and digging motions with less jerking movements.
Another feature of most of the models from 20 tonnes and above that contributes to decreased fuel consumption is the advanced Smart Power Control (SPC) system from Develon. The SPC system controls engine rev/min automatically to supply the appropriate torque depending on workload and speed, to ensure the best fuel efficiency.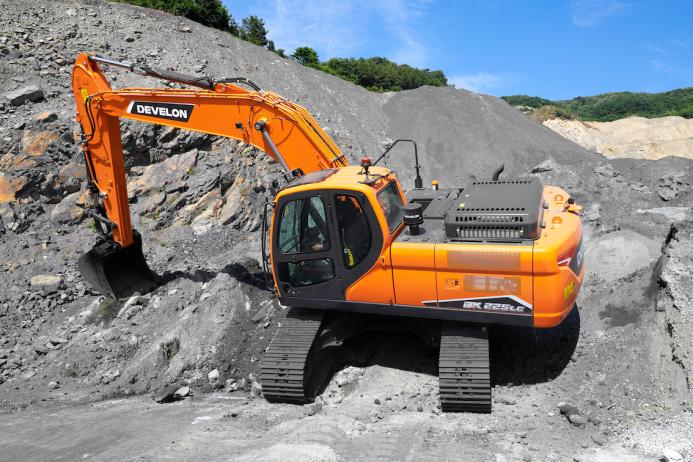 The completely redesigned cabs on the DX-7M excavators provide maximum comfort and total control of all aspects of the equipment. Several ventilation and air-conditioning options are offered to meet any additional needs. Enhanced safety is also ensured by the seat-belt warning alarm system and the AVM (Around View Monitor) system, which is designed to prevent accidents caused by blind spots.
Other comfort aspects of the new cabs include:

New interior with a dark grey base for a modern look

Upgraded heating and ventilation functions

8in touchscreen monitor for intuitive operation

DAB audio (hands free, Bluetooth)

Choice of fabric seat with heating function or leather seat 

Multipurpose cup holder and storage available

Ergonomic footrest (reduced ankle fatigue)

LED cab lights

Rear sun visor.
The DX200A-7M and DX220AF-7M models have additional reinforcement for superior off-road performance, with every key component meeting Develon's global standards. In the DX200A-7M, the hydraulic components and the engine tank have been strengthened and the robust frames and structures are designed to withstand the rigours of arduous workplaces. Similarly, the DX220AF-7M is fully armoured from top to bottom to help maximize uptime on all types of extreme terrain.
Another important feature of the new-generation Develon excavator range is the installation, as standard, of the latest version 3.0 of the telematic Develon Fleet Management system, which collects data from sensors on the machines.