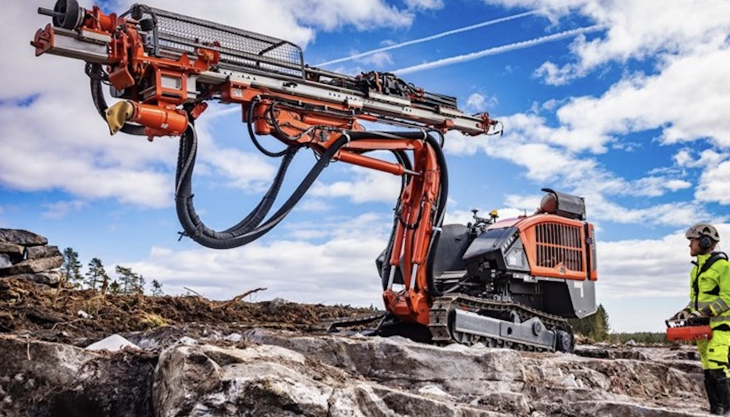 Redesigned top-hammer rig boosts all-terrain productivity for surface drilling and blasting contractors
SANDVIK Mining and Rock Solutions are launching a new, even more productive and sustainable top-hammer drill rig, designed especially for drilling and blasting contractors.
The redesigned Dino DC420Ri will replace its well-known predecessor, the Dino DC410Ri, although the proven overall concept – namely the biggest coverage area in its class and powerful rock drill – will remain.
In addition, the new Dino DC420Ri will feature a wider carrier for improved stability and a powerful Stage V engine for lower emissions, together with a drill-rod carousel and one-hole automation for increased productivity.
In the space of just a few years, the Dino DC410Ri top-hammer drill rig has become a popular choice for those looking for excellent productivity and mobility in the 51–76mm (2–3in) hole size range. The boom system has the largest coverage area in this drill rig category and the powerful 14kW RD414 rock drill allows high-capacity drilling.
However, upgrades were needed to ensure its proven concept would remain competitive in the years to come, in terms of both productivity and sustainability.
Several of the key features on the newly introduced Dino DC420Ri have been completely redesigned. A 105kW Volvo Penta TAD580VE Stage V diesel engine now provides regulatory compatibility for markets where this low-emission engine standard is required, and the rig carrier is wider, offering better stability – thereby improving operator safety in difficult terrain and at challenging work sites.
The third major upgrade is the actual drilling system, which can now be fitted with an optional three-rod carousel cassette to enable longer holes, up to a depth of 14m. Future upgrades will add the option of one-hole automation, making full use of the potentially longer holes and improved productivity made possible by the addition of the drill steel carousel.
In addition to the most significant upgrades to the tracked carrier, drilling system, and engine, the Dino DC420Ri will also feature several other smaller, but significant new features.
Operators of the new machine will enjoy a new 7in touchscreen and a control system and screens with the same look and feel as the cabinless Sandvik Commando DC130Ri and DC300Ri drill rigs, offering a unified user experience, ease of training, and other commonality benefits. The drill navigation system has also been updated to the TIMi version and the electric systems have been redesigned to improve overall robustness and reliability.
Over the next few years, the Dino series will be streamlined into a single Dino DC420Ri with two engine options for both Tier 3 and Stage V emission classes. Until then, the Dino DC410Ri will remain on the market to bridge the offering for those customers who require a Tier 3 engine. Moreover, future system updates will also include an open interface for transferring 3D data to third-party systems for purposes such as drill and blast planning or production control.
Sales of the new Dino DC420Ri have already commenced, with deliveries due to start in late 2022.