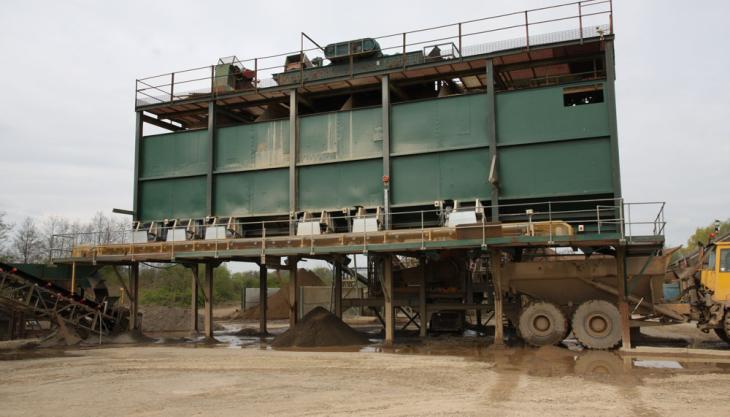 Canning Conveyor supply and install new blending conveyor for Shropshire sand and gravel operator
BASED near Ludlow, in Shropshire, family-owned Bromfield Sand & Gravel Co Ltd supply washed sand and gravel products to both trade and domestic customers, including a constant supply to an on-site CEMEX concrete plant.
Over the years the company's wash plant has undergone several upgrades, and recently a desire to replace the existing blending conveyor with a more efficient unit led the company to contact Canning Conveyor for a solution.
Quarry manager Wayne Clent explained: 'In 2009, Canning Conveyor manufactured a new dump hopper feeder for us and we were very impressed with their approach and manufacturing capabilities, so we turned to them to supply a new blending conveyor.'
Canning supplied a 16m long, double-drive, reversible blending conveyor and six 1m long extractor conveyors, including all guarding and installation work. Canning engineers also removed the old system.
The new blending conveyor is situated to the side and at the base of the site's existing storage bins. Material is fed from the wash, plant via inclined conveyor, on to a triple-deck screen at the top of the bins, where it is split and fed into designated hoppers.
The bins feed on to the six new 900mm wide extractor conveyors, which, in turn, discharge on to the new 700mm wide blending conveyor. Driven by twin motors, this reversible conveyor can send material either to stockpile or directly to the lorry-loading point.
'The new design incorporates a wider belt and skirting, and is much more efficient than the old system. The double drive has increased the efficiency and stability of the whole operation, and reduced lorry loading time,' said Mr Clent.
Installation was completed within the allotted time frame and the system was commissioned in early February 2017, at which point it became clear that one or two modifications were needed.
'We realized we needed a few things rectifying after commissioning,' explained Mr Clent. 'The Canning team reacted very swiftly and was on site with the system up and running after a short period of downtime. Since then everything has worked faultlessly and to our satisfaction, which is testament to Canning and their team.'