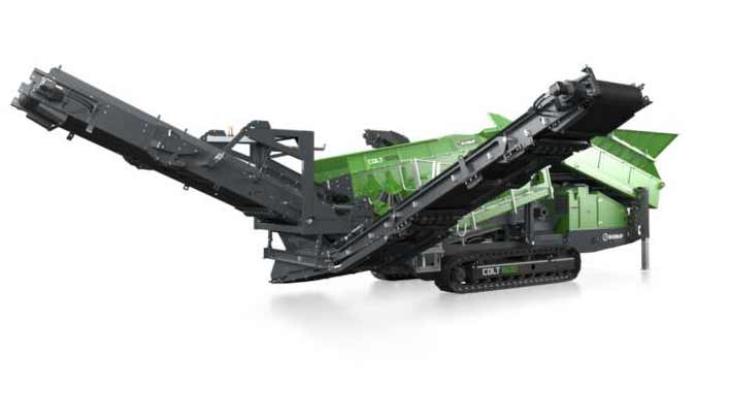 EvoQuip reveal new heavy-duty mobile scalping screen capable of processing up to 600 tonnes/h
EVOQUIP used their 'Experience Days' event today in Northern Ireland to exclusively reveal plans for a new innovation – the Colt 1600 scalping screen.
The 200-strong audience at the event – including customers and dealers from across the world – heard how the new scalper has been in secret development for some time with the first machines scheduled for production in the coming months.
Addressing the attendees, business line director Matt Dickson said: 'I'm proud to officially reveal the Colt 1600 as a brand new EvoQuip model, the first of which will be available to ship to customers in early 2020. We are confident that this highly aggressive scalping screen will open up new opportunities for EvoQuip customers globally.'
He added: '2020 is set to be an exciting year with this launch and other equipment innovations already in development.'
Building upon the features which have made the Colt 1000 a global success, the new Colt 1600 will be the largest screen in the EvoQuip range, capable of processing up to 600 tonnes/h depending on the application.
With a high-capacity incline apron feeder as standard, EvoQuip say the machine has been rigorously tested in heavy-duty applications and more than delivered on expectations.
Incorporating an aggressive double-deck screen measuring 4.8m x 1.53m (16ft x 5ft), the Colt 1600 scalper is designed to work in both primary and secondary screening applications.
With its three interchangeable screenbox options (single shaft, triple shaft and Spaleck), variable screening angle and numerous screen media options, the machine is designed to operate in both heavy-duty scalping and precision screening applications, managing even the most difficult of materials with ease.
Moreover, the Colt 1600 is available with hybrid technology, giving it the flexibility to be powered by an external power supply or the standard on-board engine.
As with the highly successful Colt 1000, the standard machine configuration discharges the fines product to the right-hand side of the plant, with the mid-grade on the left. However, both conveyors can be ordered in the reverse configuration, along with the ability to place both conveyors on the same side of the unit once the Colt 1600 reaches the field.
Flexibility is further enhanced with two-way split conversion by simply relocating the tail conveyor to collect both top and bottom deck material, whilst the already impressive conveyor discharge heights can be further enhanced with the addition of optional telescopic conveyors.
The T-Link telemetry system provides the customer with real-time information on the performance of their machine for effective machine management and maximum uptime. Also available is the multi-award-winning OMNI by Terex cab-led machine control system which was launched earlier this year.