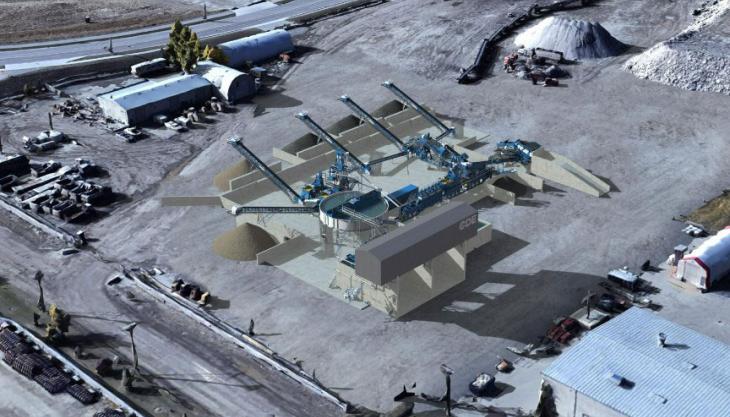 C&D waste-recycling plant to be commissioned by autumn 2022
CALGARY Aggregate Recycling Inc. are to commission a brand-new CDE waste-recycling plant later this year, as the company looks to achieve its ongoing efficiency goals, as well as meeting sustainability and commercial objectives. The bespoke facility will be built at the company's existing recycling facility in southeast Calgary, processing construction and demolition (C&D) waste and contaminated soils.
According to wet-processing specialists CDE, the new C&D recycling plant will be the first of its kind in Calgary and one of a few plants the company has installed in North America, following the completion of similar facilities in New York and Maryland.
Once operational, the soil refuse facility in Calgary will have the capacity to recycle up to 600,000 tons of excavated material each year, diverting what CDE describe as a high volume of construction materials from landfills and channelling them back into the industry as reusable and saleable recycled sand and aggregate products.
'We are privileged to work alongside Calgary Aggregate Recycling to deliver a major C&D waste-recycling system of its kind in Canada,' said Adrian Convery, CDE's business development manager.
'The resulting solution will represent all that we strive for in pursuit of a circular economy, facilitating the diversion of vast tonnages of material from landfill, transforming them into high-grade recycled sand and aggregates for the construction industry, while simultaneously restoring land for future use and driving down carbon dioxide emissions.'
Travis Powell, president of Calgary Aggregate Recycling, added: 'Our mission is to reduce the cost of construction – socially, environmentally, and economically. With the support from ERA (Emissions Reduction Alberta) and the government of Alberta, we are pleased to construct Calgary's first C&D waste-recycling plant to disrupt the out-of-date practices in the construction industry with economical and viable solutions to position Alberta as a leader in sustainable and responsible construction.'