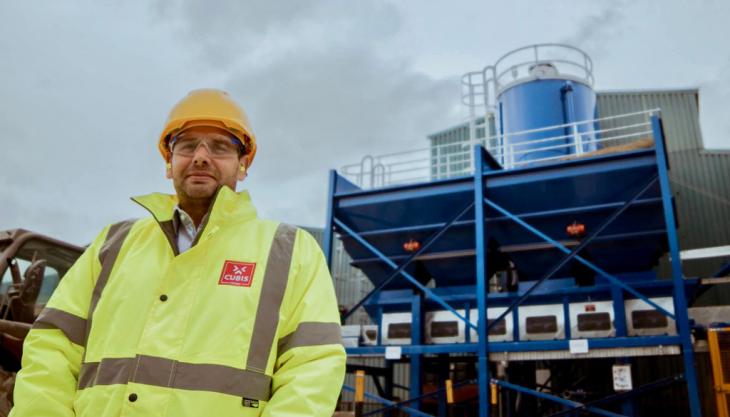 Infrastructure services firm chooses Rapid International for concrete batching plant upgrade
CUBIS Systems are a market leader in the manufacture of access chambers and ducting systems used in the construction of infrastructure networks. The Co. Armagh-based company operates seven manufacturing sites across the UK and Ireland, exporting to more than 25 countries worldwide. 
To meet future demand in terms of both output and product quality required by customers, Cubis have recently invested in a bespoke Rapid concrete batching plant solution at their Co. Armagh site. 
Prior to the static batch plant upgrade, the company's concrete production process involved the use of a volumetric truckmixer. However, this production method made the process of achieving desired outputs and tensile strength of the final product difficult to control, as well as being time-consuming.
Cubis required a bespoke concrete batching plant that would offer a greater degree of consistency and flexibility with increased outputs to keep pace with global market growth. With this mind, a project team within the company was formed to identify the best machinery available whilst also finding a proactive equipment partner to develop solutions collaboratively. 
Colin Bridges, performance manager for Cubis, explained: 'We wanted a company that could develop a process to remove inconsistent and uncontrolled concrete mixes to deliver a higher-quality product and to allow us to control mixes for higher-strength products, ultimately giving us the capability to enter markets where we previously couldn't compete in.
'It was also important to be able to draw on readily available expertise, backup and support. During the tendering process, it became clear from an early stage that Rapid International would satisfy all our requirements.'
The bespoke Rapid concrete batching plant (co-developed with Cubis) incorporates a Rapid RP500 planetary mixer positioned on a specifically designed platform to provide easy access for maintenance. 
Selected for precast applications, the concrete mixer delivers outputs of up to 0.5 cubic metres per batch and features a pneumatically operated discharge door with heavy-duty mechanisms, extra thick chill-cast wall and floor tiles and a 22kW three-phase motor. 
According to Rapid International, the unit's mixing action creates high turbulence, resulting in a thoroughly consistent and homogenous mix. The mixer's motor and gearbox are positioned on top of the mixer to provide easy access for cleaning and maintenance – a key consideration for Cubis.  
Cubis also opted for an optional Rapid Jetwash to deliver fast and powerful mixer cleaning. The Jetwash is a self-contained and fully galvanized high-pressure mixer washout system that takes just four minutes to complete each wash cycle. 
The bespoke plant is also equipped with two aggregate storage bins and an integral 600mm weigh belt, which has a capacity of 0.75 cubic metres per batch and is capable of delivering up to 200 tonnes/h. The static Rapid batch plant also features a 0.75 cubic metre-capacity mixer filling skip.