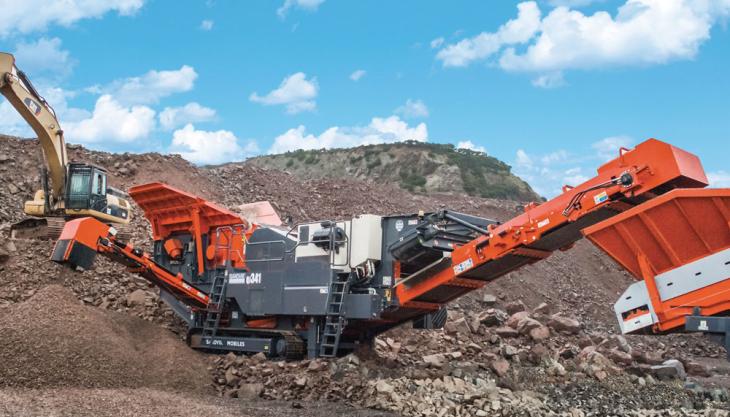 QJ341+ with pre-screen offers operators greater efficiency, less wear and higher productivity
SANDVIK Construction Mobile Crushers and Screens will be introducing a new addition to their 341 jaw crusher range with the launch of the new QJ341+. This new model incorporates a double-deck pre-screen as standard, broadening the offering of the bestselling QJ341 mobile jaw crusher to meet customer requirements.
The new pre-screen feature on the QJ341 provides high amplitude for effective separation, ensuring the removal of a large amount of fines for greater efficiency, higher productivity and less wear on the crusher. The QJ341+ will, therefore, be particularly effective in quarrying applications where a high proportion of fines are found in the feed material, as the new pre-screen will 'screen out' this material before it can enter the crushing chamber. Test results have already demonstrated up to a 38% increase in productivity in certain applications.
To complement the pre-screen, Sandvik have designed a new telescopic natural fines conveyor with a discharge height of 3.1m, to deal with the increased flow of pre-screened material, while the dirt chute has been designed with a steeper angle to allow a faster transfer of material, whilst also increasing the ability to deal with sticky material.
The three-position dirt chute allows all material passing the pre-screen grizzly to be diverted on to either the main conveyor or the natural fines conveyor, whilst in the middle position it allows a screened product to be produced from the fines conveyor. All of this is achieved by positioning the three-way chute without removing any media from the pre-screen.
Moreover, the QJ341+ model will include the same customer-focused characteristics as the standard model, including: hydraulically adjustable CSS setting; reversible jaw; and hydraulic drive, allowing the crusher to start under load. The machine also features Sandvik's PLC control system and control screen.
Other benefits of the QJ341+ include: a choice of either a Cat or Volvo emissions-compliant engine; and a new, improved self-locking hopper for quick and safe set-up from ground level. Improvements have also been made to the main conveyor to reduce drag. The QJ341+ has also been fitted with highly efficient bent axis and radial piston motors throughout, which will reduce hydraulic flow rates and increase fuel economy, as well as improving durability.