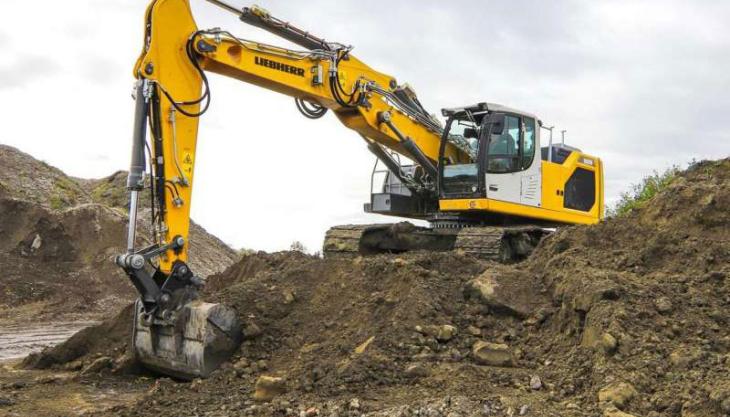 Weight-optimized R 928 G8 crawler excavator delivers higher performance and improved productivity
POSITIONED between the R 926 G8 and the R 930 G8, the Liebherr R 928 G8 crawler excavator is a completely new addition to the current Generation 8 series, which already includes seven models with gross vehicle weights ranging from 22 to 45 tonnes.
Owing to the modularity of the new Generation 8 family, the R 928 G8 has several features in common with the R 926 G8 and R 930 G8 models – the same superstructure and equipment as the R 926 G8 and the same LC or NLC undercarriage as the R 930 G8.
Rounding off the current range of Generation 8 crawler excavators, Liebherr say the R 928 G8 is characterized by high drawbar pull, excellent load-bearing capacity and a large bucket, whilst its optimized weight – less than 30 tonnes in various configurations – makes it easier to transport.
Developing higher tearout and breakout forces than the previous generation, the torque of the Generation 8 superstructure has also been increased, which means that the G8 excavators achieve higher levels of performance under typical site conditions.
Moreover, a new equipment concept allows the load curve to be optimized and the inertia in the rotary drive to be improved, thereby reducing fuel consumption, whilst the new and robust X-form undercarriage delivers greater stability and the automatic central lubrication system ensures longer parts service life and improves productivity.
The spacious, air-conditioned cab, which is easily accessible thanks to the raisable control unit, is another stand-out feature of Generation 8. The operator benefits from a fully retractable front window, a rear window that also serves as an emergency exit, a pneumatic seat with vertical and longitudinal damping, and an easy-to-use, high-resolution touchscreen.
The use of LED technology reduces power consumption and improves lighting quality, whilst the excellent all-round vision as well as rear and side surveillance cameras maximize safety in the working environment. In addition, to improve safety during maintenance work, access to the superstructure and the maintenance platform has been widened and is now located at the side.