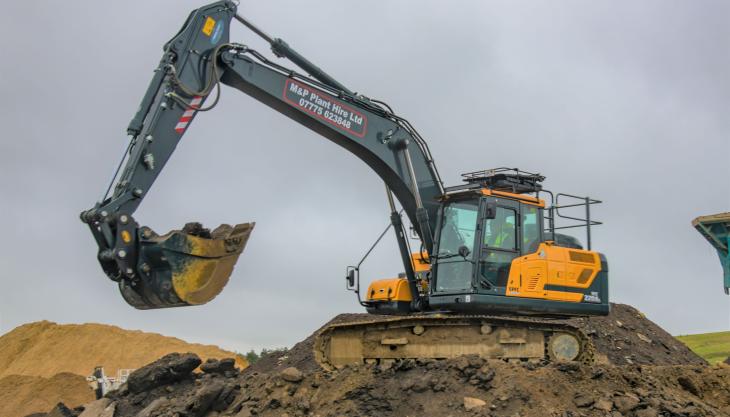 Dorset-based contractor invests in new HX220AL crawler excavator for reliability and performance in recycling sector
M&P Plant Hire have taken delivery of a new 22-tonne A-series HX220AL crawler excavator from Hyundai dealers Molson Equipment. The recent investment follows the purchase of a Hyundai R220LC-9A excavator three years ago and other models from the South Korean equipment manufacturer prior to this.
As well as carrying out a number of muck-shifting and landfill contracts in the English South Coast, M&P Plant Hire also undertake contract load and haul activities for Dorset-based Commercial Recycling. Most of the work consists of dealing with the vast amount of waste materials coming into Commercial Recycling's Wimborne recycling facility.
From stockpiling to loading materials on to trucks and crushing and screening plant on site, it is essential for Mervyn Vaughan, owner of M&P, that his earthmoving machinery and waste-operating equipment ensures the maximum amount of waste material is recovered and recycled.

Having owned and operated Hyundai machinery before, it comes as no surprise to learn that Mr Vaughan decided to invest in a Stage V HX220AL crawler excavator to meet the needs of M&P's daily waste-management operations. 
Powered by a six-cylinder Cummins QSB6.7 diesel engine, the HX220AL features a 5.6m boom, a 2.9m dipper (with Geith hydraulic hitch) and a variety of buckets covering capacities up to 1.2 cubic metres.
The new excavator also has a number of new service features that have been developed with the aim of improving machine uptime, including Engine Connected Diagnostics (ECD) and Electric Positive Flow Control (EPFC) which improves fuel efficiency and machine controllability during operation. For added safety, the machine comes with a 360-degree AAVM (All Around View Monitoring) camera system and LED lighting.
Since delivery, the HX220AL has been well received by M&P, with Mr Vaughan singing the praises of the A-series excavator. 'People say I was taking a gamble changing my previous machine for a Hyundai six years ago,' he commented.
'As far as I'm concerned, it was one of the best decisions I have ever made. With the HX220AL, I am routinely getting around seven to nine litres per hour when we are moving more material. I was really surprised at the smoothness of the hydraulics even compared with the older HX-series. This machine is also so responsive and easy to operate.'