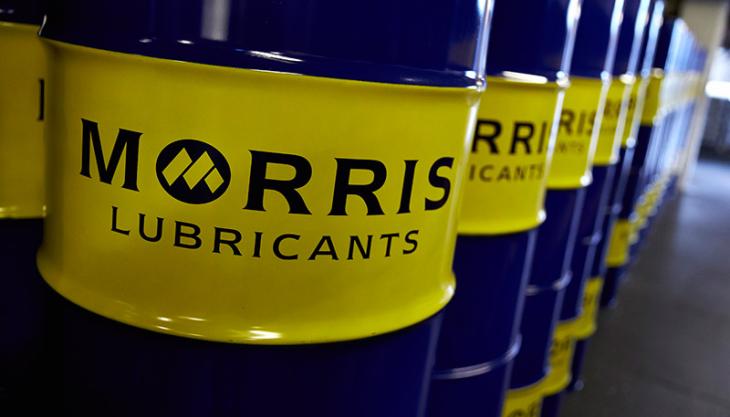 Terrain LS 80W-90 and Terrain CT 10W-30 oils designed to perform in the harshest OTR environments
MORRIS Lubricants, UK manufacturers of off-highway lubricants, have launched two new products designed to help OTR vehicles perform in the harshest of environments. The new Terrain LS 80W-90 and Terrain CT 10W-30 oil products were produced by Morris' experts in close collaboration with OEMs to ensure that they exceed the very latest global standards.
The Terrain LS 80W-90 is a mineral oil-based gear oil that has been formulated with a high level of extreme pressure additives and friction modifiers. These elements protect the critical mechanisms of limited slip differentials used in heavy off-highway and agricultural equipment.
The sophisticated oil will also protect against rust and corrosion and has a low foaming tendency. It has been designed to cope with shock loading in off-highway machines.
Adrian Hill, product manager, explained: 'Shock loading occurs when one of the driven wheels loses traction and the differential locks, redistributing the drive equally. Standard API GL5 gear oils are unable to cope with this extreme condition and therefore it is necessary to use the correct limited slip differential oil to promote long component life.'
The Terrain LS 90W-90 can be used where SAE viscosity grades 80W-90, 85W-90 or 90 are specified, or in standard differentials, axles, reduction hubs, slewing gears and transfer boxes where an API GL5 80W-90 gear oil is required.
The Terrain CT 10W-30 has been specially developed for Caterpillar transmission systems. Formulated with high quality Group II base oils and additives, the oil provides the correct frictional characteristics required by Caterpillar in transmission and hydraulic systems.
The additive system is said to give the product improved temperature performance, superior resistance to oxidation, rust, corrosion, and improved anti-foam properties. Terrain CT grades also deliver excellent wet brake performance, eliminating 'squawk and chatter', and prolonging component life.
Mr Hill said: 'We're constantly striving to develop the next generation of products that not only meet, but far exceed our clients' expectations.'