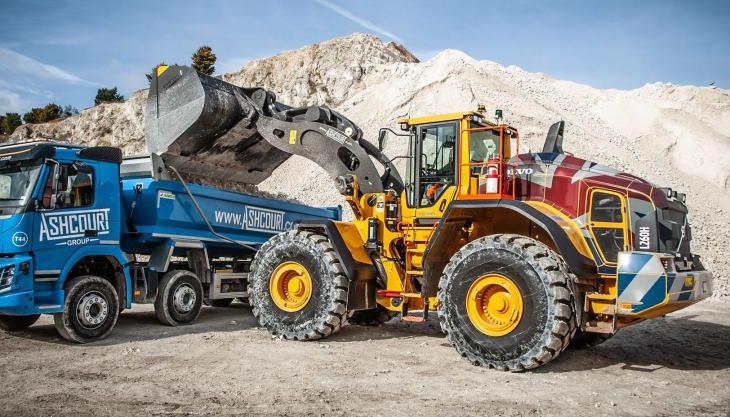 Company adds to existing fleet with new loading shovel, new excavators and new materials handler
HULL-based Ashcourt Group have continued to add more Volvo machines to their aggregates, civils and recycling divisions during 2018, all supplied by SMT GB.
Featured at this year's Hillhead exhibition was a 34-tonne L260H loading shovel destined for Ashcourt Group's Partridge Hall Quarry, near Pocklington, North Yorkshire. The machine, with its unique Union flag proudly displayed on the engine hood in reflective micro-prismatic vinyl panels, has taken over as the quarry's prime mover as production output is ramped up.
'Moving from the smaller L150H to the L260H brings many benefits to our production here at Partridge Hall,' explained quarry manager Damian Towse. 'With its 7 cubic metre re-handling bucket we can now load eight-wheeled tippers in just two passes and articulated trailers in three, which means the machine is able to dispatch vehicles far quicker and, therefore, free up more time for re-handling material around the quarry.
'We've also seen gains on the overall fuel consumption per tonne moved, and we can now manage our activities in the quarry without the need for a dumptruck, which, again, has provided us with a significant improvement on all round productivity and cost savings.'
The L260H features a 13-litre stage-IV final engine developing 420hp at a relatively low 1,100–1,200 rev/min. The machine also benefits from Volvo-designed and manufactured driveline components, including Optishift with torque converter lock-up and reverse-by-braking feature – all designed to offer considerable fuel savings each shift. Fuel savings are further enhanced by the Volvo Eco-pedal that encourages the operator to run the machine at its optimum rev/min in the engine's torque curve.
Ashcourt's new L260H has also been specially equipped with a large capacity 7 cubic metre re-handling bucket with a straight edge, allowing the machine to easily handle 10 tonnes of crushed chalk every pass. The machine also benefits from an enhanced full-turn tipping load of 24 tonnes, thanks to the addition of Goodyear 29.5R25 GP4D tyres, whilst other features on the new L260H include CDC (Comfort Drive Control), Volvo's optional ride control or boom suspension system, an automatic lubrication system and an RDS Alpha 100 weigh loader.
Safety features including all-round visibility aids such as sensor vision, blue strobes, white noise alarm and additional LED working lights that are also included in the machine's specification.
Meanwhile, two new excavators – a 40-tonne EC380E and a 50-tonne EC480E in standard heavy-duty backacter configuration – have been added to Ashcourt's civils and bulk earthmoving fleet. Both machines are powered by Volvo Stage-IV compliant 13-litre engines developing 311hp and 385hp, respectively, and offering the latest in engine technology and operating sophistication.
The Volvo Care Cab offers a large, roomy interior with plenty of leg room and foot space. Excellent all-round visibility is enhanced by pressurized and filtered cab air supplied by a 14-vent climate-control system. An adjustable, easy-to-read LCD colour monitor provides real-time information on machine functions, key diagnostics and a wide variety of work tool settings, as well as providing views from the rear- and side-view cameras.
Since acquiring a large recycling facility at Foster Street in Hull three years ago, Ashcourt Group have made significant investments in the premises, including a new state-of-the-art concrete batching plant. This has allowed the company to greatly expand the area set aside for recycling a diverse range of materials, including inert building waste, aggregates and waste wood, which is processed and recycled for biomass.
In order to process and re-handle this material, Ashcourt have added a Volvo EW240E MHE (materials handler) specifically rigged for the task, with a hydraulically elevating operator's compartment to aid the safe loading of high-sided bulkers. The new arrival has joined a similarly rigged EC220E that was supplied two years ago.
Powered by a six-cylinder Volvo engine developing 171hp, the EW240E has been supplied with a 6.5m straight boom and 4m sorting arm with a Kinshoffer rotating selector grab. Rigged in the way, the EW240E provides a maximum forward reach of 10m, a maximum height of 12m at the attachment pin, and a 3.7-tonne lifting capacity at maximum reach across carriage with its outriggers down.
Uniquely, the EW240E supplied to Ashcourt is the first in the UK to feature CDC control (Comfort Drive Control), which has eliminated the need for a steering wheel and steering column. By choosing this option, the operator's forward field of vision is greatly improved for loading material into high-sided bulkers when the cab is elevated to its full height.