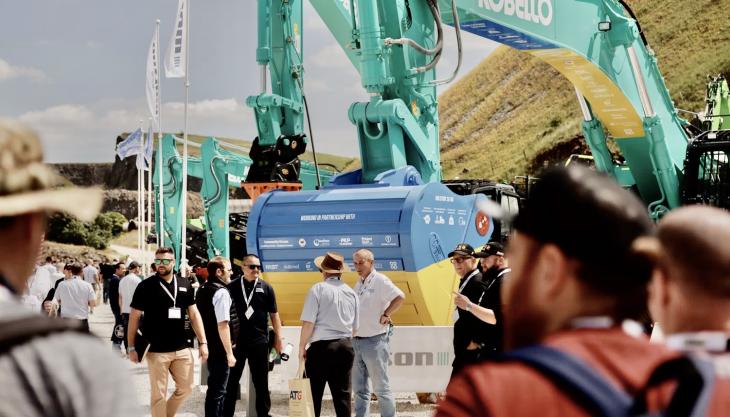 Heavy-duty rock bucket in the colours of the Ukrainian flag takes centre stage on Molson stand
MOLSON were out in force at this year's Hillhead event, showcasing a comprehensive range of products both on static display and working in many of the demo areas. But as well as the machinery, the company's stand also attracted plenty of attention, thanks to the giant Ukraine-themed bucket on display, highlighting the ongoing campaign to support those affected by the conflict. 
Basking in the Buxton sunshine and returning after a four-year gap, Hillhead 2022 delivered a truly impressive show. As the first of the established plant events since Covid, Molson say it was the perfect opportunity for them to exhibit products from several of their specialist divisions. 
The main Molson stand featured products from Kobelco, Hyundai, Rokbak, Sennebogen, Terex Ecotec, Finlay, and EvoQuip, to name a few, whilst Molson Compact had their own stand adjoining Ammann Group, to showcase the complete range of smaller excavators and compact dumpers from brands including Cormidi, Tufftruk and many others.
With so much on display from the Molson 'Single Source Supply' offering, visitors had no shortage of feature machines examine over and appreciate, including the Kobelco SK850LC-10E excavator, Rokbak RA30 articulated dumptruck, and Ammann ARS150HX single-drum roller. 
But the centrepiece of the stand was undoubtedly the MST 5.2 sq m heavy-duty rock bucket painted in the colours of the Ukraine flag. The bucket featured details of the Molson Group's journey to support those impacted by the conflict, along with details of the groups and organizations that have worked with Molson to achieve all they have to date. 
By lending their logistics expertise, along with various fund-raising initiatives led by a group of 'community champions', Molson have received, sorted, and transported four articulated lorry loads of aid to credible charities in the area, who have then distributed the aid into the hands of the Ukrainian people. With a running total of 414 volunteer hours from their staff, Molson say this is a cause that has really resonated with the team.
The company says this effort has only been possible by working in collaboration with proactive community groups, charities, and like-minded businesses, such as: Cardiff for Ukraine, Ukrainians in Bristol, Hope & Aid Direct, Fanshare, PKP Transport, Project Start, Kuehne + Nagal, Co-op, Davidsons Chemists, Doune Nursery, Imagesign, EY, Multimat, and MST.