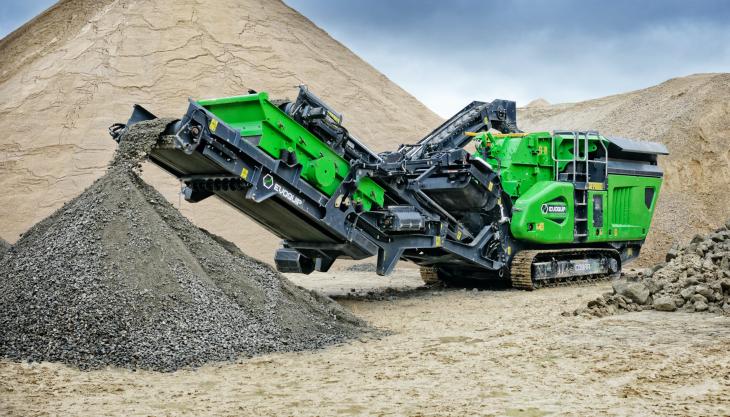 EvoQuip compact equipment line-up complements 'single source supply' offering from Molson
MOLSON Group have been appointed as the sole UK distributors of the full range of EvoQuip compact crushing and screening equipment with immediate effect, including the provision of genuine spare parts and maintenance.
The EvoQuip range starts with the Bison 35 mobile jaw crusher, capable of outputting up to 30 tonnes/h, and extends up to the Cobra 290/R mobile impact crusher, capable of outputting 250 tonnes/h.
The compact size of the EvoQuip machines will complement the 'single source supply' offering from Molson, which includes other leading brands such as Hyundai, Kobelco, Terex Ecotec, Terex Finlay, Terex Trucks and Sennebogen, among others.
Molson currently operate from 13 service locations strategically positioned throughout the UK, ranging from Cornwall to Inverness, and have more than 75 fully equipped mobile service engineers and over £6 million worth of parts in stock.
The EvoQuip range will be available from Molson Finlay in England and Wales, whilst Molson Finlay Scotland will represent the brand in Scotland.
Robin Powell, joint managing director of Molson Group, commented: 'EvoQuip products are renowned for their versatility and durability. The broad range of crushers and screeners offered by EvoQuip perfectly complements our existing range of Terex Finlay crushers and screeners.
Barry O'Hare, EvoQuip business line director, said: 'Molson have generated impressive growth across the UK and this, along with the outstanding levels of customer service that they deliver, made it a natural choice to appoint them as the distributor for EvoQuip.
'We see the UK as a key market and look forward to working with such a progressive and proven dealer moving forward.'