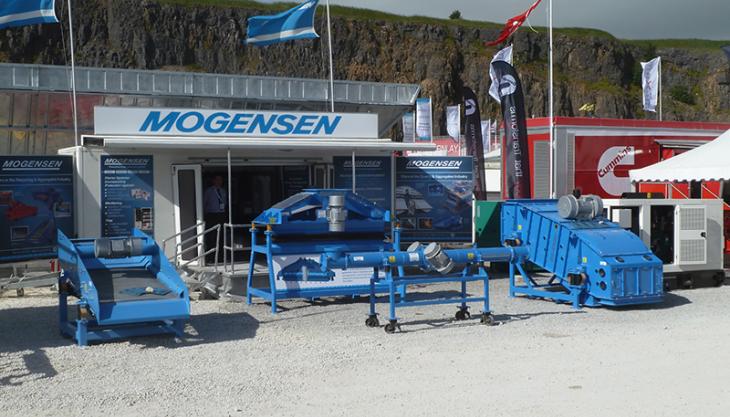 Mogensen Raw Materials Handling report that this year's appearance at the Hillhead exhibition was their best ever.
The stand attracted a record number of visitors and significant enquiries. Interest in the company's wide range of vibratory Sizers, screens, feeders and conveyors was, as ever, very lively. The item of equipment which attracted the greatest interest this year, however, was the vibratory spreader feeder.
This type of machine is designed to accept a feed from a narrow source such as a conveyor belt, and to spread it evenly and consistently across any wider, subsequent item of process equipment, which needs a controlled, properly spread feed presented at low velocity in order to operate at its optimal efficiency. Examples of such equipment are wide vibratory screens, conveyor-type fluid bed driers, magnetic drum separators and computerised optical and X-ray sorting machines. Mogensen's spreader feeders designed to serve single 1m, 1.5m, 2m and 3m machines are now available, as are feeders in the same range of output sizes designed to accept a single, narrow feed and to split it into two equal streams, each of which is efficiently and evenly spread.
Mogensen machines are available in mild or stainless steel execution, with or without dust enclosures and in heat- and/or wear-resistant versions.