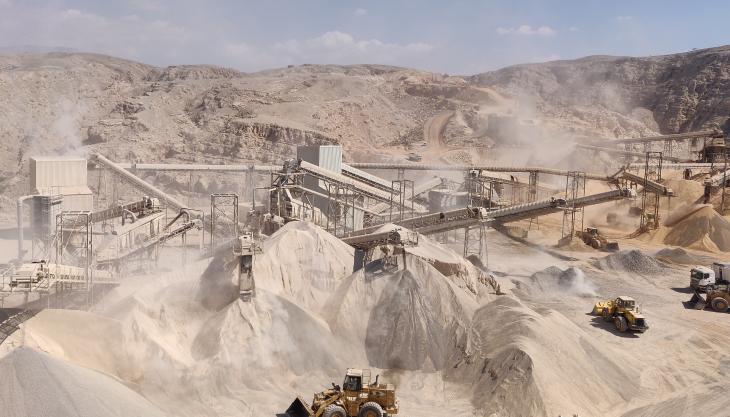 1,200 tonnes/h Terex MPS plant aids limestone production for JSW Cement in the Middle East
DUBAI-based mining, crushing and logistics operators Minerals Technocom Contractor FZE have recently installed and commissioned a 1,200 tonnes/h Terex MPS plant in Ras Al Khaimah to support the production of steel-grade limestone for JSW Cement FZE.
JSW Cement FZE are a wholly owned subsidiary of India-based JSW Cement and the limestone produced will be used as a raw material for their steel plant in India, as well as catering to the requirements of local market.
Minerals Technocom turned to Terex based on the professional approach and expertise provided by the Terex MPS team, to deliver a solution that would produce 6 million tonnes per annum.
Having considered the options, the company decided on a 1,200 tonnes/h plant consisting of a Cedarapids JC5460 primary jaw crusher (the biggest jaw crusher offered by Terex), a Cedarapids MVP 550 X secondary cone crusher and a Canica 2000 tertiary vertical-shaft impactor, together with multiple screens including the MTS 6204 and Cedarapids TSV8203, dual-mechanism screen from the US.
In total, the set-up spans approximately 420,000 sq metres and produces 20,000 tonnes of material per day, ranging from 0–5mm and 5–10mm through to 10–20mm, 20–40mm and 40–80mm.
Sundar Rajan, Terex sales director for the Middle East & East Africa, said: 'We offered this plant to Minerals Technocom because of its relatively simple design with limited units delivering the best output and minimum fines generation.
'We were delighted to support the customer from the early planning stages right through to the supervision, erection and commissioning of this large-scale plant.'
The head of operations at JSW Cement added: 'Having a solution that satisfies our strict requirements in terms of consumption and productivity was of utmost importance to us and we are delighted that the Terex plant is producing the output as committed.
'In addition, Terex were a terrific help to us throughout our site planning, preliminary engineering layout, providing support to our engineering procurement and construction contractor on layouts and planning for our site operations.'
Mr Rajan continued: 'We're privileged to be part of this significant set up – it is a clear demonstration that we can provide specific solutions to achieve desired results, and just as importantly, the resources needed to back this up.
'We have no doubt the plant chosen by Minerals Technocom will continue achieving ultimate efficiency and production output and we look forward to supporting the ongoing relationship between Minerals Technocom and JSW Cement in the future.'