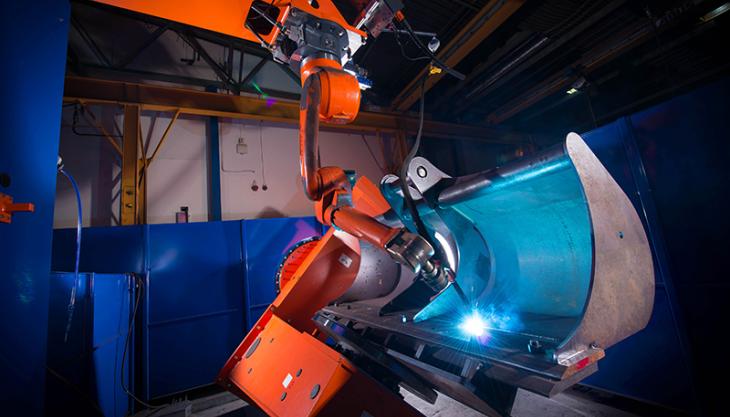 Global earthmoving attachment specialist overhauls its UK manufacturing plant 
MILLER are investing around £1.5 million in overhauling their UK plant. The substantial investment focuses largely on three key areas in competitive bucket manufacturing – productivity, service level and lead time reduction.
Some areas have already seen a significant increase in productivity; this is set to enhance further as three additional new robots will be installed in the factory by the end of 2015.
The implementation of the latest robotic welding equipment will optimize capacity during busy trading periods, while two plasma cutting machines and a modern parts storage system have been supplied to boost productivity. The plant investment, coupled with planned stock building during quieter periods, ensures availability is guaranteed on all fast-moving products.
To ensure the business remains a leader in groundbreaking products designed to meet customer needs, Miller say they will also invest in research and development for both the home and overseas markets, providing a wide range of innovative products suited to an ever-changing global market.
Mike Askew, managing director of Miller, said: 'This initial investment, which is part of a major long-term plan designed to ensure that we can continue to supply high- quality, competitively priced attachments. It demonstrates our commitment to manufacturing in the UK. 
'Continued investment in our product range and manufacturing processes is vital to ensure we're able to meet the needs of our customers while remaining competitive in a global marketplace. We're looking firmly ahead now and by creating a lean and efficient manufacturing process, we are confident that we're ready to tackle any future challenges head on.'