UK-based attachment manufacturer acquires Australian earthmoving equipment and repairs specialist 
MILLER UK Ltd – one of the world's leading manufacturers of excavator attachments – have announced the acquisition of an Australian-based earthmoving equipment and repairs specialist.
After successfully launching Miller Australia in 2013, the company – recognized for supplying some of the safest, most advanced buckets and quick-couplers on the market – has now acquired Victoria-based New Generation Design Fabrication (NGDF) to significantly enhance its aftermarket capabilities and customer support in Australia.
Now known as Miller | NGDF, the strategic move will allow the Australian business to increase its stock availability and presence across a wider geographic area, as well as bolster its after-sales and customer-support function with a dedicated site solutions facility in Melbourne for heavy plant and attachment repairs and refurbishment.
Commenting on the acquisition, James Ross, commercial director at Miller UK Ltd, said: 'We are delighted to have acquired NGDF as part of our tactical growth plans. With a well-established base already in Australia, a growing customer base, and over a decade's worth of experience in this marketplace, we have a firm understanding of the applications involved and have significantly invested in strengthening our product portfolio specifically for the Australian market.
'Combining our strong local knowledge with technologies that are globally proven, our equipment is ideally aligned with modern Australian practices and site conditions. As such, we believe our ground-breaking attachment solutions, that have been tested and optimized for even the harshest of conditions, are the very best in class and ideally suited for any industry in Australia.
'Our mission – throughout the business at every level – is to provide exceptional customer service. Through acquiring NGDF, this will allow us to do exactly that, as we will now have greater local support and aftermarket services with dedicated facilities enabling us to provide a reactive and customer-focused service.'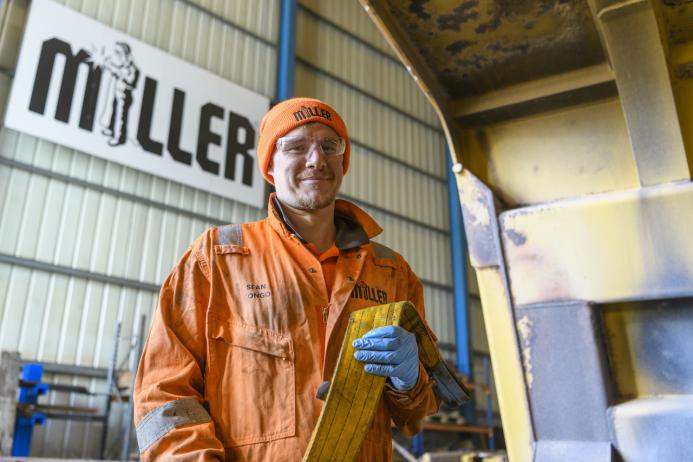 The move has also seen one of Miller's long-term employees, Sean Congo, relocate from the firm's Northumberland base to head up the workshop facilities in Melbourne. Mr Congo brings more than 15 years' extensive experience of repairing and welding earthmoving equipment and attachments at Millers dedicated site solutions facility as well as out in the field, working in various sectors from construction and demolition through to quarrying and mining, overseeing a multitude of applications.
Miller | NGDF's workshop facilities in Melbourne complement Miller's first facility in Sydney and house state of the art hydraulic and welding equipment which will allow the company to significantly enhance its aftermarket service.
Miller I NGDF have ambitious plans to invest further in these facilities and bolster staff numbers at the premises, which already has a team of experienced technicians specializing in troubleshooting and providing strong aftermarket support.
David Aldridge, general manager at Miller | NGDF, who possesses extensive experience in manufacturing and facilities operational management, said: 'We have a strong track record in the field and Miller's expertise and capabilities will enable our local business to grow with the backing of a global attachment powerhouse, whilst also further strengthening our knowledge base and capabilities to operate to international standards.
'The wealth of experience and expertise that Sean brings will springboard our services to the next level, and at a faster speed, which will help us to grow and develop our offering further.'