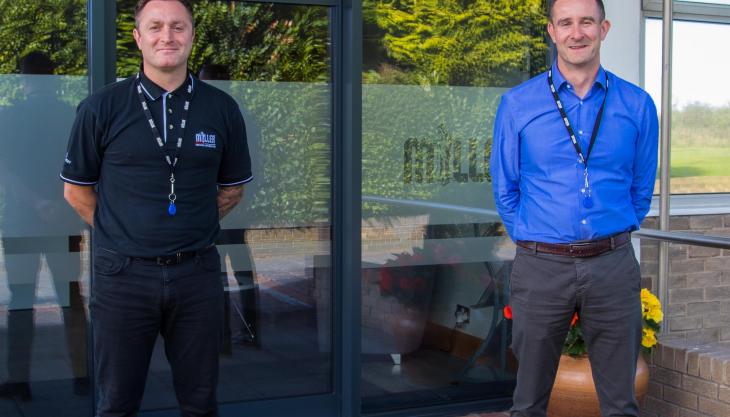 Scott Taylor and John-Paul Calvert appointed as sales and applications engineering director and sales manager
NORTH East-based attachment manufacturers Miller have continued their investment in business development with two new appointments as they look to build on growth while preparing for Brexit.
As specialists in the manufacture and supply of attachment solutions to some of the world's leading earthmoving original equipment manufacturers, OEM dealers and global excavator end-users, and with less than 80 days to go before the end of the Brexit transition period, Miller are making it their priority to have the right team in place to prepare for Brexit and beyond.
Scott Taylor, who has joined the company as sales and applications engineering director, will be responsible for global business development with new and existing customers while providing global leadership and direction for all Miller OEM/OED sales activities.
Before joining Miller, Mr Taylor (right of photo) was with AAF International for 30 years, during which time he became a qualified engineer serving on various international committees and ISO.
In 2009 he moved into AAF's aftermarket group as global sales and aftermarket manager, managing a team of sales and applications engineers and transforming AAF's aftermarket operations from a domestic to a global business.
In 2017, he took on a new role as AAF's new product introduction and market development manager, with responsibility for the strategic planning and launching of new technologies.
'I'm excited to be joining Miller, a company with great history, wide capabilities and a lot of potential to grow,' commented Mr Taylor. 'Innovation is at the core of this company and the team are constantly looking to push technology boundaries to ensure that products are at the forefront of safety standards, earthmoving efficiency, durability and value.'
In parallel, John-Paul Calvert (left of photo) has joined Miller as sales manager. In his new role, he will develop and sustain customer relationships and be heavily involved developing sales strategies throughout the UK.
Prior to joining Miller, Mr Calvert also worked for AAF International, where he was market development leader with responsibility for ensuring consistent, profitable growth in sales revenues for the company's new filtration product within the UK and Ireland.
Commenting on the two new appointments, Miller's business development director, James Ross, said: 'The demand for attachments is becoming more focused and people want better-quality attachments that save time and make it safer and easier for them to do their jobs.
'We are committed to hiring the best industry talent and the addition of both Scott and John-Paul's portfolio provides an ideal foundation, having proven their abilities in both the oil and gas and the power-generation industry.'
Mr Ross added: 'To support our growth and ambitions, we have built a very strong team with diverse and relevant experience. COVID-19 has been challenging, however with signs that the construction industry is recovering, Miller are making it a priority to have the right team in place to drive expansion plans for the future.'