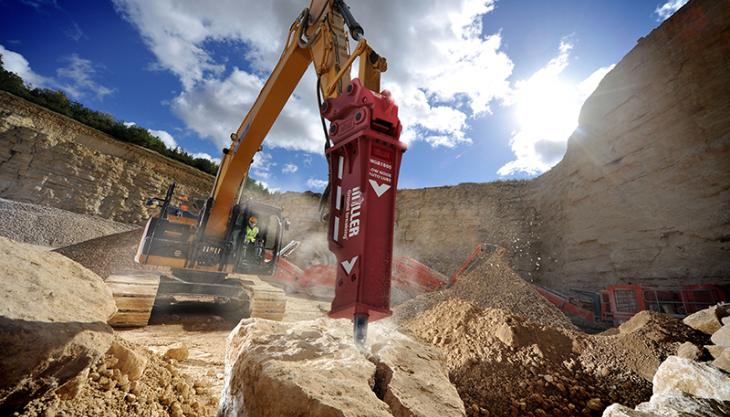 Global attachment specialists Miller UK broke new ground at Hillhead 2014 with the addition of a hydraulic breaker to their attachments product range.
Quarry operators and other users of heavy plant and equipment from all over the world were in attendance at Hillhead 2014 where international businesses presented the latest plant, equipment and materials. Set in the rugged environment of Hillhead Quarry in the Pennine Hills in the centre of England, the showground covers an area of some 140,000m2 and includes outdoor displays, covered pavilions and extensive working demonstration areas.
Miller UK say their new breaker range sets itself apart from the competition by offering a complete package to maximize the customer's uptime. Designed for optimum performance and durability, it includes a dual-speed control, auto-stop system, large accumulator and auto-lubrication as standard.
'The new hydraulic breaker is yet another industry-leading product innovation that sets Miller apart from the competition in terms of technical capabilities, quality and reliability,' said Brendan Quill, sales and marketing director for Miller UK. 'We're proud to be launching this latest quality addition to our Miller range, showcasing Miller Complete Solutions at the industry's flagship event.'
The new Miller hydraulic breaker offers a high-quality solution for customers looking for a high-performance, reliable product. It comes with a two-year warranty and offers service intervals up to 20% longer than the industry standard.
Miller Complete Solutions offer a full range of attachments to meet all earthmoving needs. The range includes the fully compliant Power Latch quick coupler, the Miller Mate safety system and the Scoop bucket. All are backed up with a global after-sales care programme and customer service.
With an expert service team, Miller say they can provide 98% availability and next-day delivery on genuine replacement parts to all UK customers. This allows the client to minimize downtime and onsite disruption, which can result in significant cost savings.