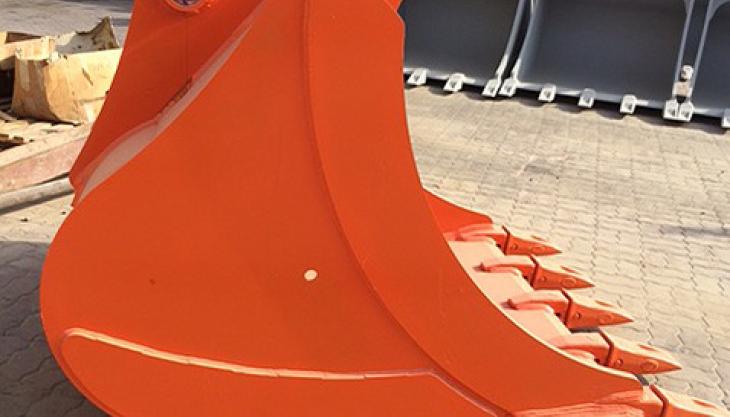 Oman-based Hitachi dealers Al Fairuz using Miller buckets and couplers across their entire fleet
MILLER UK have continued to strengthen their presence in the Middle East region with Oman-based Hitachi dealers Al Fairuz now using Miller products across their entire equipment fleet.
Based in Muscat, Al Fairuz are one of the biggest excavator dealers in Oman and have represented Hitachi for many years. The dealership has used Miller buckets and quick-couplers for the last four years and this year purchased enough units to cover its entire fleet of Hitachi excavators. These will be put to use on a variety of different infrastructure projects across the country, mainly for road construction and pipe-laying works.
Al Fairuz have specified Miller's direct-mounted, heavy-duty buckets on the Hitachi ZX350 excavators that make up 80% of their machine sales. The company has also recently purchased the same bucket model for its Hitachi ZX240 and ZX470 excavators, meaning that its entire fleet is now supplied with Miller attachments.
The compact shape of the heavy-duty bucket is said to improve efficiency by reducing the area of the attachment in contact with the ground; causing less resistance during digging but delivering a higher fill factor as a result of the machine's enhanced digging force.
Ashok Sudhakaran, chief executive officer of Al Fairuz, said: 'For us, it all comes down to product quality, and so far we have been very happy with the quality of the buckets from Miller. We've also had good feedback from clients using them on site.
'We have an excellent working relationship with Miller, which helps make the whole process much smoother from start to finish, and we look forward to continuing to work closely with them in the future.'
Brendan Quill, sales and marketing director of Miller, added: 'The fact that our products are now widely used in Oman, as well as many other export markets, including Qatar, UAE, India, Singapore, Australia and across Europe, highlights the impressive global reach of the Miller brand today.
'Our reputation as a world-leading earthmoving attachment designer and manufacturer is down to our continued commitment to innovative design and high standards of safety. We're proud that this has been recognized by contractors and plant hire companies across the world who see the benefits of using Miller attachments.'