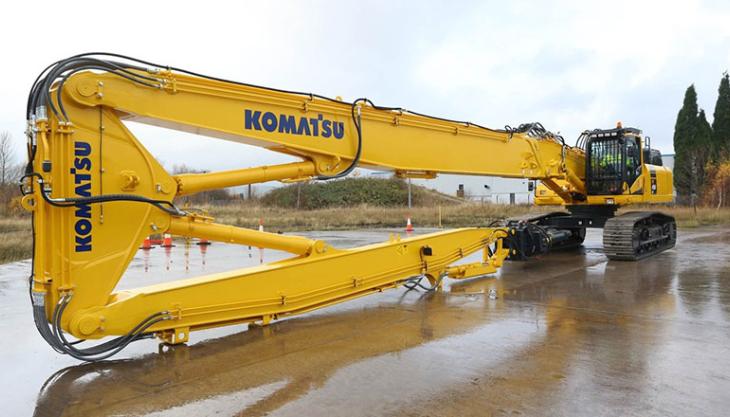 Company strengthens demolition equipment offering with latest PC490LC-10 HRD model
MARUBENI-Komatsu have announced the launch of the PC490LC-10 high-reach demolition (HRD) excavator – a new addition to the company's highly successful demolition range.
The latest machine has been designed to bring the benefits of the Dash 10 range into the specialized demolition sector and was in development for more than two years, receiving full OEM quality assurance after passing stringent performance tests.
The Stage IIIB-compliant PC490LC-10 HRD excavator is powered by a Komatsu SAA6D125E-6A engine (362hp) and has been purposely built for demolition work, thanks to a maximum working height of 28m and tool capacity of 3.35 tonnes at 16.5m forward reach.
For less demanding applications, a new medium-reach demolition specification is available that allows the use of five-tonne demolition tools at a height of up to 17.4m, giving the new machine the capability to tackle heavy demolition work at medium height. Furthermore, the PC490LC-10 HRD unit is compliant with the latest EU474 Annex G regulations which govern machines used for 'cutting buildings'.
The Komatsu SAA6D125E-6A engine uses an advanced electronic control system to better manage airflow rate, fuel injection, combustion and exhaust after-treatment to optimize performance and fuel usage. Komatsu have also developed a hydraulically actuated variable geometry turbocharger and exhaust gas recirculation valve for the machine, delivering a 5% reduction in fuel consumption and longer component life.
For enhanced safety, a new working range indicator system – which does not interfere with the control of the machine – has been incorporated. It provides full colour, real-time indication of the precise position of each section of the work equipment, to ensure the operator is fully aware of the available working range.
The system includes memory settings for 15 attachments (with operator selectable names) and takes into account the inclination of the base machine for calculating the available working range. This is effective for both high-reach and medium-reach demolition work, automatically detecting which equipment configuration is installed at engine startup.
The operator cab is specifically designed for HRD excavators. The front window and roof window incorporate high-impact protective glass compliant with EN356 Grade P5A, while the front guard, which is side hinged for easy window cleaning, complies with ISO10262 Level 2 falling object test requirements.
The cab is also mounted on a Komatsu original tilting mechanism, the tilt angle being infinitely adjustable between 0 and 30°, with convenient tilt angle control through joystick-mounted thumb switches.
The PC490LC-10 HRD excavator is supported by Komatsu CARE, a complimentary maintenance programme for customers that comes as standard with every new Komatsu EU Stage IIIB construction machine. It also has the latest KOMTRAX technology, which sends machine operating information to a secure website utilizing wireless technology. Data such as operating hours, location, cautions and maintenance alerts are relayed to the web application for analysis.