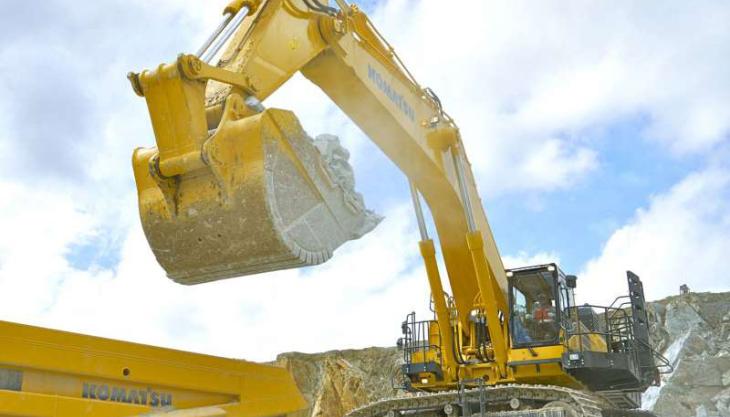 New machine said to redefine industry standards with improved performance, comfort and safety
MARUBENI-Komatsu have launched a large hydraulic excavator featuring improved production levels, operator comfort and safety. With operating weights ranging from 115.9 tonnes to 118.3 tonnes, the new PC1250-11 is powered by a Komatsu SAA6D170E-7 engine that provides 578kW (775hp) at 1,800 rev/min.
Exempt from current EU emission regulations, but EU Stage V ready, the Komatsu engine features two diesel particulate filters (DPF) and has no need for a selective catalytic reduction (SCR) system.
'Komatsu have redefined industry standards with this new excavator,' said Jo Monsieur, product manager at Komatsu Europe. 'It not only combines great performance with excellent comfort, but also ensures that work can be performed safely, thanks to an impressive array of standard safety features.'
The latest KOMTRAX and KOMTRAX Plus telematics, and the Komatsu CARE maintenance programme, offer optimum fleet-management and support, protect the machine against misuse and guarantee maximum efficiency and uptime.
Work modes include the well-known Power and Economy modes, but the PC1250-11 also benefits from the new Power plus (P+) mode, which allows the operator to make full use of the increased engine power to achieve up to 8% greater production than a PC1250-8 model in P mode. The Heavy lift and Swing Priority functions are still available, as on the previous model.
A two-mode setting for the boom lets the operator choose between smooth operation for gathering material and maximum power for more effective excavating. The shockless boom control makes operations smoother and reduces both stresses on the machine and operator fatigue.
Thanks to a large cross-sectional structure using high-tensile steel with thick plate and partition walls, the boom and arm are long-lasting and resistant to bending and torsional stress. Moreover, the undercarriage has been strengthened, for reliability and durability when working on rocky ground, and sturdy guards shield the travel motors and piping against damage.
The PC1250-11 is also said to raise the bar when it comes to standard safety equipment. The operator's cab conforms to OPG top guard level 2 (ISO 10262) for falling objects. It has a high shock-absorption capability, excellent impact resistance and an increased sound absorbing capability.
Also, derived from mining excavators, a new hydraulically operated 45° retractable stairway allows safe access to the machine, and a standard 'auto-lock' function automatically interrupts all machine hydraulic functions if the stairway is not fully retracted.
The 'neutral detection system' will also activate the hydraulic auto-lock if the work equipment control levers are not in the neutral position when the hydraulic lock lever is released. The auto-lock status is clearly displayed and easily reset on the monitor panel.
Three emergency stop switches are provided, the first in the operator's cab, whilst the other two can be quickly accessed from ground level, one on the right deck near the fuel-fill connection, and the other on the left catwalk, next to the hydraulic stairway.
For even greater safety, KomVision is fittest as standard, with four networked high-definition cameras creating a real-time bird's-eye view on the machine monitor, to eliminate the blind spots to the rear and sides of the machine.
The new Komatsu PC1250-11 is also said to feature industry-leading comfort levels and easy maintenance.
The low-vibration cab, which is highly rigid and features a damper mounting system and excellent noise-absorption ability, is wider than on a middle-sized excavator. It includes a high-back, air-suspension heated seat with a reclining backrest: height and inclination are easily adjusted with a simple lever. The operational position of the armrest and console can also be customized. The cabin is pressurized and the high-capacity air-conditioner is standard.
The interface of the large, high-resolution, liquid-crystal display (LCD) monitor has been redesigned for quick and easy reading of necessary information.
On the display, ECO guidance shows the status of the machine in real time. With a single touch, its menu allows the operator to check records for operation and Eco Guidance, as well as fuel consumption history, allowing total fuel usage to be reduced.
A walkway provides easy access to inspection and maintenance points, which are grouped together to facilitate engine and hydraulic component checks, whilst a reversible fan helps with easy radiator cleaning, an optional fast refuelling port on the right front deck can be accessed from ground level, and a standard battery disconnect switch allows a technician to interrupt the power supply before servicing the machine.
KOMTRAX Plus allows expanded monitoring of the fleet via satellite and wireless LAN. Users can analyse machine health and performance – including component condition and trend data – from a remote location. Komatsu say that by making this critical information readily accessible, KOMTRAX Plus is an effective tool to help maximize productivity and lower operating costs.