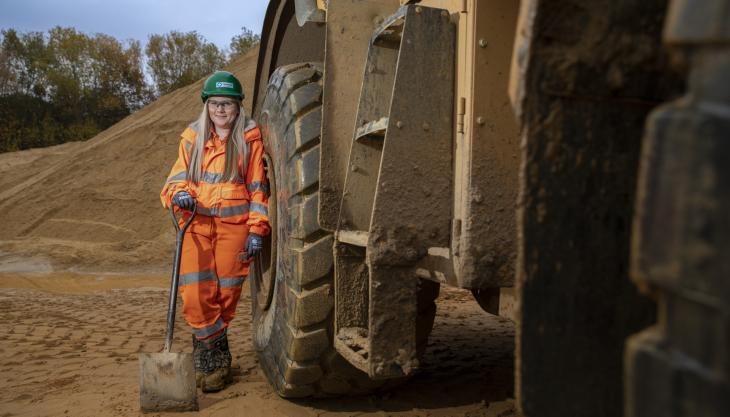 Tarmac loading shovel driver Emma Cain shortlisted for Top 100 Influential Women in Construction Award
A MAIDSTONE mum has been shortlisted for a top national award recognizing the most influential women in the construction industry. Emma Cain, a loading shovel driver and general operative with Tarmac, is in line for a Top 100 Influential Women in Construction Award in the One to Watch category.
Organized by The National Federation of Builders, the awards aim to showcase the most influential women and non-binary role models in construction, as well as allies affecting change. The One to Watch category celebrates individuals that are relatively new to the industry and blazing a trail in championing equality, diversity, and inclusion.
Ms Cain (pictured) has worked for Tarmac since 2019, playing a vital role in operations at the business' sand and gravel quarry in Sevenoaks, Kent. In stark contrast to her previous career in social work, as a qualified driver she is now charged with operating a 24-tonne loading shovel, as well as proving support for the site's weighbridge.
She said: 'I never previously had a passion for anything nor had the opportunity to work my way up, whereas here at Tarmac I absolutely love my job. I really enjoy coming to work and love what I'm doing.'
While Ms Cain recognizes that she is in the minority of women in construction, she is confident that the perception of women in operational roles is changing. She is also providing ongoing support and guidance to Tarmac as the business seeks to attract more female talent.
A mum to two-year-old Poppy, she added: 'People don't appreciate there are so many different aspects of the business, and they don't think of women working in the industry – except in the back office. They don't realize women work on the front line too.
'I feel very proud of what I'm doing. It's nice to see that times are changing and that women are getting out there and doing what was once perceived as an exclusively male job. I want to show my daughter that you can achieve whatever you want.'
The Top 100 Influential Women in Construction winners will be revealed at a ceremony and gala dinner on Thursday 27 October at the Kimpton Clocktower Hotel, Manchester.