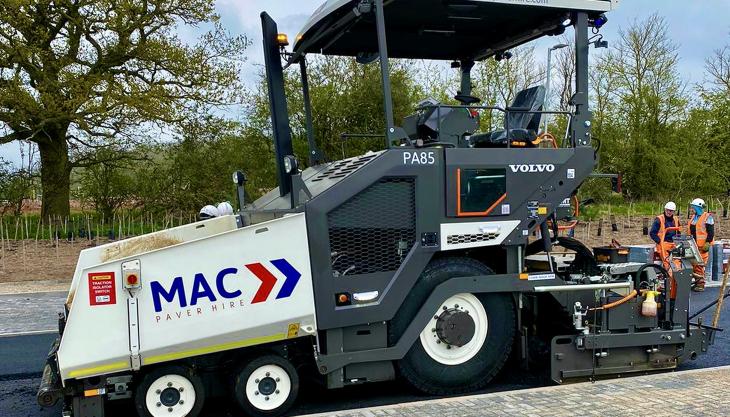 West Midlands-based surfacing firm takes delivery of brand-new Volvo paver with VB79 screed 
AFTER exploring competitor offerings, MAC Surfacing have returned to Volvo and recently taken delivery of a new P6870D ABG paver, fitted with a state-of-the-art VB79 electrically heated screed, which is unique to the Volvo ABG range of paving machines.
The new machine has been deployed on works for Wolverhampton City Council and Highways England, where its performance has been well received by the machine's operators. 'It's a really good machine, and the more we're getting used to it, the better it's becoming,' comments MAC Surfacing's managing director Marc Copson.
Commenting on the decision to return to Volvo, he added: 'The after-sales support and the extended warranty that came with the machine made us think that maybe we should try something different. But it's also all to do with how long they last, and what sort of support you get when they do break down. So, it seemed to be a competitive offering for what we're getting, compared to what we were getting elsewhere.'
Generating an output of 129kW, the P6870D's highly efficient Stage V engine combines high torque and low rev/min to deliver superior performance and efficiency, but also low emissions, reduced noise and lower fuel consumption.
The new EPM3 management system fitted to the P6870D displays information via an all-new dashboard with improved clarity, while also providing highly ergonomic control of all machine functions.
Monitors similar to the one found on the operator's platform are also located at either ends of the screed for the screw men. These additional monitors display information on essential machine functions and also provide any operator in the gang with the ability to take full control of all of the machine's operational functions. This leaves the driver to steer the machine with the minimum number of distractions.
The EPM3 system also allows the operators to monitor service intervals, productivity alerts and gives a warning to the driver when these parameters require attention. These can also be monitored remotely through the Volvo CareTrack portal.
The VB79 screed fitted to the P6870D provides a paving width of up to 9m with the optional box extensions, is hydraulically adjustable and has the ability to camber both the main screed and extensions. As well as improving the quality of the work the machine undertakes, this provides a considerable amount of versatility on profiles and mats, ensuring that MAC Surfacing can lay a perfectly uniform mat every time.
Established in 2004 and based in Tipton, West Midlands, family-run MAC Surfacing offer a complete planning and surfacing solution. With 156 employees and a current fleet of 25 pavers, the company provides nationwide hiring of plant, labour and equipment for a wide range of surfacing services on a 24h basis, 365 days of the year.
In addition to working with a broad range of tier 1 and 2 companies, such as Tarmac, Aggregate Industries, Hanson and Eurovia, MAC Surfacing are also currently undertaking works for the Midlands Metro Alliance, which is focused on improving the West Midlands tram network.