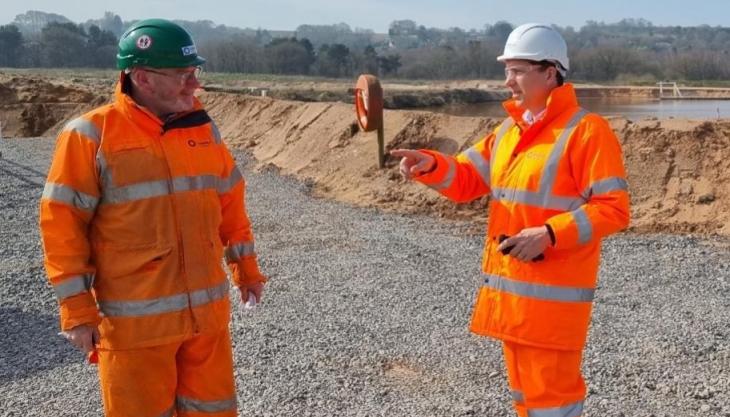 MP Edward Timpson CBE impressed by operations and restoration at Tarmac sand and gravel site
EDWARD Timpson CBE, Member of Parliament for Eddisbury, has visited Tarmac's Crown Farm Quarry, in Oakmere, Cheshire, to see how sand and gravel supplied to construction and infrastructure projects across Cheshire, Merseyside, Greater Manchester, North Wales, and Lancashire is extracted and processed.
Crown Farm, part of the Cheshire Sands cluster of quarries that has been operating for the past 55 years, supplies high-quality sand to concrete, asphalt, and mortar plants, and general building sand markets.
As well as seeing the operation close-up, including Tarmac's new dredger, the MP witnessed the pioneering restoration work being carried out at the site to safeguard and enhance the natural habitat for plants and animals.
Mr Timpson (right of photo) said: 'It was fascinating to see how raw materials such as sand and gravel – so vital to construction, engineering, and manufacturing in Eddisbury, and across the North West – are extracted and prepared for use by business.
'The processes involved – from extraction by Tarmac's new dredger, through to screening and washing – are truly impressive, and it was a privilege to meet the team at Crown Farm Quarry.
'Tarmac's conservation work to rewild areas of the quarry after the extraction process is also commendable and bodes well for the company's efforts to work sustainably in its areas of operation.'
The quarry was recognized for these conservation works – along with commercial partners Atkins – when it received a 'highly commended' award in the 'Project of the Year: Habitat Creation' category for its biodiversity enhancement in the 2021 Construction Industry Research and Information Association (CIRIA) BIG Biodiversity Challenge Awards.
The Biodiversity Challenge to 'do one thing' invited the construction industry to add at least one new biodiversity enhancement to construction sites, developments, or existing buildings.
Tarmac, who are working in partnership with the Cheshire Wildlife Trust to restore the previously quarried areas of Crown Farm, were lauded for their work in protecting and promoting wildlife such as the great crested newt, and ground-nesting bird species such as the sand martin.
The Trust also runs the Crown Farm Discovery Centre – an on-site educational facility, funded by Tarmac, which educates local schoolchildren about nature and how they can play their part in preserving it for the future.
Quarry manager Steve Williams (left of photo) said: 'We're very proud of our operational work and biodiversity activity at Crown Farm, and together with the local Tarmac team, it was a pleasure to demonstrate this first-hand to Mr Timpson.
'As a business, we work hard to ensure that land is restored to its original condition or an even better state once extractions are completed, by rewilding vast areas. So far, this has seen the development of a 17ha restored area, which is now a thriving nature reserve that we are proud to manage alongside our local partners, for the benefit of the whole community.'