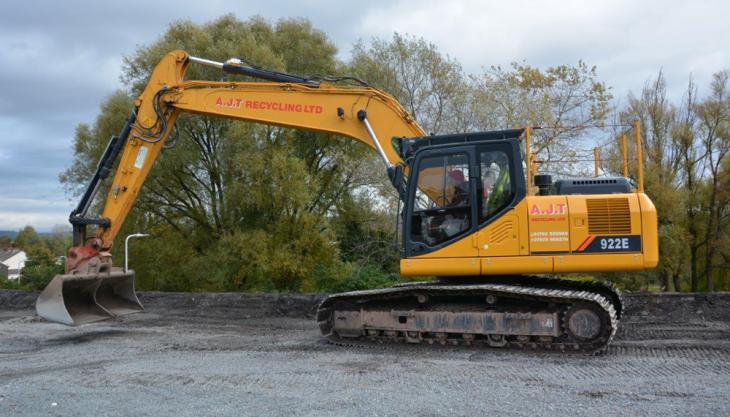 Company increases sales and delivers a number of demolition-spec excavators to recycling operators in the region
THROUGH their UK dealers Construction Plant & Machinery Sales (CPMS), LiuGong continue to expand sales across the country and have recently supplied a number of hydraulic excavators to customers in South Wales. 
Following a series of successful machine demonstrations, four LiuGong demolition-spec machines were sold to some high-profile waste-management firms in the region.  
The first LiuGong machine sold (purchased by Swansea-based A.J.T Recycling) was a 22-tonne 922E excavator, which is powered a Tier 4 Final/Stage IV emissions-compliant six-cylinder Cummins QSB6.7 engine providing 119kW at 2,100 rev/min. 
Another Swansea recycling operator impressed by LiuGong equipment is L.G Murphy. Following a lengthy demonstration of a LiuGong machine, owner Andrew Murphy had no hesitation in ordering a new 924E demo-spec excavator. 
He commented: 'With our extensive knowledge of plant, we always do our homework when looking to buy. Personally, I am not a lover of all the technical stuff such as DPFs, but the LiuGong machines have come along and ours is proving to be a great machine.'
The 24-tonne 924E model is powered by the same Tier 4 Final/Stage IV emissions-compliant six-cylinder Cummins QSB6.7 engine in the 922E unit, rated at 119kW at 2,100 rev/min.
Phil Farnham, managing director of Cardiff Demolition Co. Ltd, is another plant operator who has had a long-standing working relationship with CPMS and their regional sales manager Carl Jennings.
This relationship led Mr Farnham to take a LiuGong on demonstration when he was looking to replace an outgoing 30-tonne class machine. He said: 'We were a bit sceptical at first, but during the demonstration period a few of us operated the machine and we were all pleased with it and if I'm honest we were quite surprised at how well it performed. 
'When the time was right to change our old PC290 we thought we would give the 175hp LiuGong 928E a go. The machine has since amassed 500 hours of trouble-free operation and the operator and our clients seem very impressed with it.'
One buyer who did not need to have a demonstration to convince him of the merits of LiuGong machines was Rob Stiens of Stiens Haulage Ltd. He purchased a 908D midi-excavator, which came complete with full demolition specification and rubber track pads. The 8-tonne 908D is powered by a 76hp Yanmar engine and, as with all other models in the LiuGong range, features well proven components throughout the machine. 
All demolition-spec LiuGong excavators come with hammer/shear and rotation circuits with full proportional controls, certified front screen and roof guards, bucket ram guards, heavy-duty under panel guards and under turret guards, as well as separate heavy-duty bolt-on side sill protection. 
The machines are also equipped with additional LED work lights, green seat belt beacons and fall from height (boxing ring) protection.