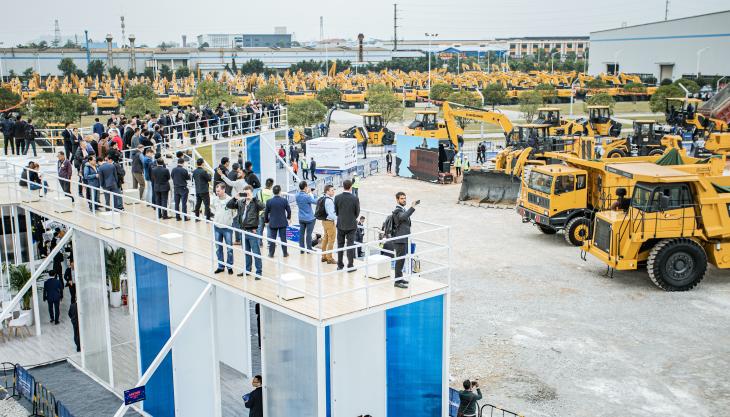 Customers and dealers from more than 40 countries enjoy in-depth look at LiuGong products and production facilities
LIUGONG have held their first global customer event in Liuzhou, China, based around the theme of 'Building Our Business Together'. The two-day event saw more than 300 guests, customers, key accounts and dealers from 41 countries gather together to learn more about LiuGong.
Customers enjoyed an in-depth look at LiuGong's manufacturing and R&D facilities, along with a display of their full line of equipment, which comprises a total of 92 machines covering every major application from infrastructure construction, mining, quarrying and aggregates, roads and highways, and utilities to materials handling, lifting, landscaping, agriculture and forestry.
The event also provided a platform for customers to share their own experiences with LiuGong equipment. With more than 60 years of experience and independent technological innovation, LiuGong have successfully introduced their products and services to more than 140 countries and regions around the world, in a bid to build a respected and competitive global construction equipment brand.
In his keynote speech at the event, Huang Haibo, president of Guangxi LiuGong Machinery Co. Ltd, said: 'Throughout our internationalization, LiuGong have built an integrated, localized R&D, sourcing, manufacturing, sales, parts, service, direct sales and financing and leasing support system globally, and it is time for us to bring these globalization efforts to a higher level and a wider stage.'
Looking to the future, Mr Haibo stressed that LiuGong would fully implement their 'total intelligent' strategy and focus on machine innovation and upgrading, as well as preparing for the intellectualization and electrification of the construction equipment industry. He also promised to provide more value-added services to customers in aftermarket areas such as technical service support, distribution logistics and timely and effective delivery of parts.
'By seizing the opportunity of industrial transformation, we aim to move forward together with our customers,' he said, adding that LiuGong will also pay attention to the value demands of all relevant parties to maintain the healthy and sustainable development of the company.
Luo Guobing, vice-president of LiuGong and general manager of LiuGong's Overseas Sales and Marketing Division, also addressed the conference. He said: 'The improvement of our products and technologies is driven by customers and the valuable feedback they give us.
'Customers want reliable products, efficient solutions, a full-care support system and low total cost of ownership, to make their business successful. These demands drive change in our industry. We are making efforts to satisfy customer demands and improve competitiveness through our product mix, R&D, the Internet of Things, intelligent support, big data analysis and so on.'
LiuGong launched 62 new products in 12 product lines in 2019, including Stage V wheel loaders, F-series excavators, and special application machines. Importantly, the new products are not only model upgrades, but also include many technology innovations and enhancements.
In September, at the 2019 Beijing BICES, LiuGong debuted their 5G remote-controlled intelligent wheeled loading shovel, battery electric wheel loaders and excavators, and an unmanned drive roller.
The company has also invested heavily in after-sales service and parts, training, and financing support, resulting in 51 new dealers joining the LiuGong family in 2019. And dealers themselves opened more than 100 new branches to provide closer service to customers.

'For the year 2020, continuously improving customer satisfaction will remain our main approach to making LiuGong's overseas ambitions a reality,' said Mr Guobing.