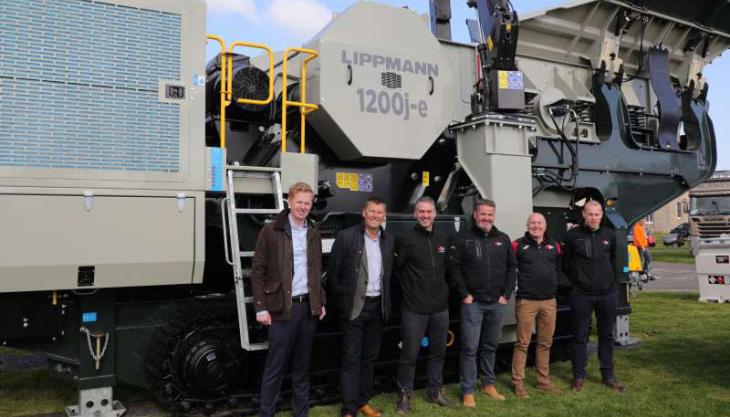 Stewart Plant Sales (SPS) and Aggregates Processing & Recycling (Agg Pro) appointed as dealers
LIPPMANN have entered the UK crushing and screening market and teamed up with two distributors renowned for their high levels of customer service support. Stewart Plant Sales (SPS) and Aggregates Processing & Recycling Ltd (Agg Pro) will now provide Lippmann crushing and screening systems to aggregates suppliers throughout Scotland, England, and Wales.
With a legacy that covers nearly 100 years in North America, Lippmann commenced operations in Milwaukee, Wisconsin, in 1923 with heavy-duty jaw crushers that have become world renowned. Continuous development and innovation have since seen the company grow into a premier aggregates processing equipment manufacturer.
In recent years, Lippmann have identified opportunities for growth beyond their primary markets in the US and Canada, with hard rock processing requirements across the UK region being one example of a natural fit for Lippmann crushing systems.
'Taking this first step into the UK is an exciting time for Lippmann,' said vice-president Kevin Kiesgen. 'We look forward to the next 100 years in this region and know that we have partnered with two strong and well-respected specialist distributors.'
With SPS and Agg Pro, Lippmann equipment sales and support will be efficiently covered throughout the entire UK region. Exclusive in each of their respective territories, SPS will be responsible for Scotland and northern England (inclusive of Lancashire and North Yorkshire), whilst Agg Pro will cover all remaining English counties to the south, and Wales.
'Agg Pro's history of putting customers first, and their extensive service department made them a clear choice as a dealer for Lippmann,' said Mr Kiesgen. 'Along with over 25 years in the crushing business, they have an extensive knowledge base for establishing the products and brand in the UK.
'Meanwhile, SPS have a long and rich history in the heavy equipment market in Scotland and northern England, trading for more than 50 years with over 17 locations. We are confident it will be a smooth and successful transition bringing Lippmann crushing and screening equipment into their portfolio and to their customers.'
The SPS booth at the recent ScotPlant tradeshow saw a Lippmann jaw crusher presented for the first time in the UK. 'It truly is a momentous day for Lippmann,' said Mr Kiesgen. 'To see our growth solidified with a brand-new Lippmann 1200j-e tracked jaw crusher and our new UK distribution partners in place is amazing.'
The new Lippmann 1200j-e is a heavy-duty mobile jaw crusher that can be powered via a choice of electric line or on-board diesel generator. Its double-deck pre-screen feeds a 48in x 34in high-inertia, single-toggle jaw, which, at 75in deep, is suitable for the hardest rock applications. The 12in DSE control panel manages numerous built-in safety features as standard, and together with 365SiteConnex telematics ensures maximum productivity and efficiency from any location..