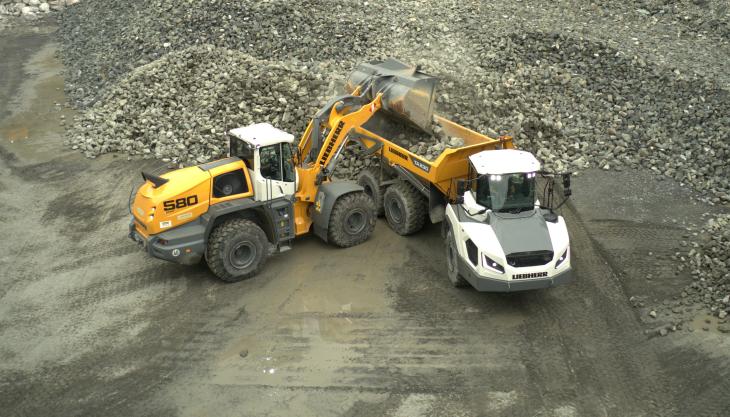 Rental operation extending fleet with £20 million investment in more than 60 new machines
LIEBHERR GB are revving up their Rental operation in anticipation of a busy year ahead by ordering more than 60 new Liebherr machines to add to their already sizeable fleet.
The £20 million investment will see a significant increase in the rental company's Generation 8 excavator fleet, with various models ranging from 22 up to 70 tonnes, Generation 8 dozers, TA230 ADTs, wheel loaders, and material handlers. There will be some new models that do not currently feature in the fleet, including an R 938 excavator.
Joe Palmer, general manager of rental and used equipment at Liebherr GB, commented: 'This £20 million investment reflects Liebherr Rental's commitment to provide customers, both current and future, with a modern fleet designed to meet their every need. The new-look fleet will feature several new models to increase our already extensive offering of world-class Liebherr machinery.'
The tracked excavator fleet will be expanded by adding the R 938 (40 tonne) model as well as increasing the number of R 922, R 930, R 934, R 945, R 956, and R 966 models. Machines from Generation 8 R 922 to R 945 will all be delivered Leica GPS ready as the relationship between Liebherr and Leica Geosystems continues to flourish.
Yet more Generation 8 PR 726, PR 736, PR 746, PR 756, and PR 766 bulldozers have been ordered as the number of dozers on the Liebherr Rental fleet is significantly ramped up. The PR 726 and PR 736 dozers have been ordered with LGP undercarriages, whilst the PR 756 and PR 766 will be fitted with single-shank rippers.
For the first time ever, Liebherr GB will be offering the newly launched L 509 Tele wheel loader, which is suitable for waste applications and small concrete plants. Several L 518, L 526, L 538, and L 546 models will be available with a mix of waste-specification configurations (solid tyres, hi-tip buckets, additional protection etc) along with others in standard aggregate specification.
Machines from the full XPower range of wheel loaders will be arriving with several L 550 and L 556 machines in waste specification. All wheel loaders from the L 526 upwards will be fitted with the Liebherr Assistance Systems, including Personnel Detection System (rear), 360-degree camera, tyre pressure monitoring (except those on solid tyres), and the Liebherr weigh device.
The number of Liebherr TA 230 articulated dumptrucks in the rental fleet is also being increased. All will be fitted with wide flotation tyres, full tailgate, and Liebherr weighload indicator.
New LH 22M and LH 24M material handler models have been ordered in waste specification with SG 25 sorting grabs. The LH 30M and LH 40M will be fitted with generators and available with either a five-tine or clamshell grab as well as a magnet. For the first time, Liebherr Rental will also have LH 18M machines available for hire.