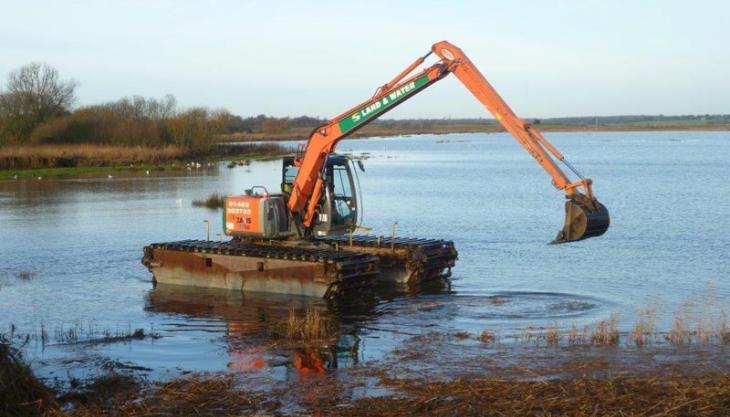 Company praised by Environment Agency for immediate response to flood defence emergency
WHEN specialist plant hirers Land & Water were contacted by A-Plant and the Environment Agency around midday on Thursday 12 December, following the first big tidal surge of the winter, with an urgent request to supply a specialist machine to repair flood defences that had been damaged during the recent storm, the company responded immediately.
Failure to repair the defences could have resulted in a significant risk of flooding in and around Walberswick, in Suffolk, but owing to the challenging environment where the flood defences were damaged, the only equipment that could be used to make the repair was an amphibious excavator that could travel over the soft and flooded terrain to repair the breached sea wall.
At the time of the enquiry Land & Water's amphibious machine (pictured) was working at another customer's site, but after careful discussions the other client, appreciating the risk to people's homes, agreed to allow Land & Water to have the machine for the weekend to assist at Walberswick.
Wheels were immediately set in motion with the Environment Agency arranging their own emergency crew and associated equipment, while Land & Water collected the machine the following day and transported it overnight to Walberswick to allow it to be unloaded by 8am on Saturday morning.
To ensure the works were completed on time, Land & Water supplied both day- and night-shift operators who, at very short notice, cancelled all other plans for the weekend. This allowed the machine to work 24h a day until late on Sunday when the works were complete. The excavator was then cleaned and loaded on to overnight transport to be delivered back to the original customer's site by 8am on Monday morning.
Richard Houghton, operations manager at the Environment Agency, said: 'These flood defences could not have been repaired without this specialist plant and the Land & Water team behind it. We were impressed with the immediate response we received from them – especially at the point of enquiry where, by thinking outside the box, they found a way to make the machine available.
'Thanks to a fantastic team effort between the Land & Water team and my own team, the job was completed safely, quickly and in a way that was extremely sensitive to the natural environment.