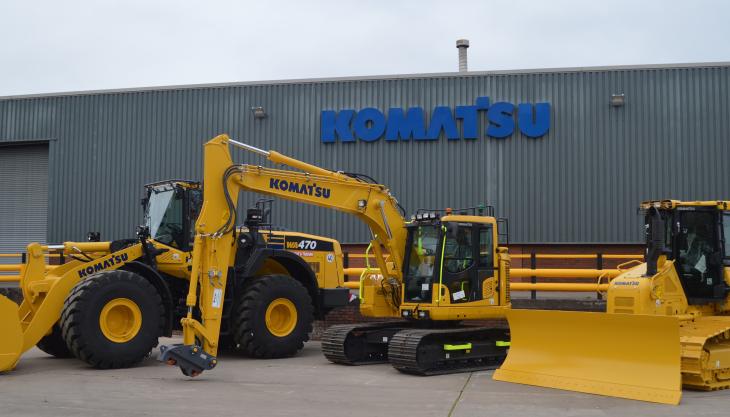 Plant hire firm strengthens its mobile plant fleet in response to customer demand
SHROPSHIRE-based plant hire firm Ridgway Rental have placed an order for 130 new Komatsu machines as part of an ongoing business strategy to continually update their earthmoving plant fleet to meet the demands of their customers, whilst providing them with the latest technology, safety features and fuel-saving benefits.
The £12 million deal with Marubeni-Komatsu includes a mixture of excavators, bulldozers and wheel loaders ranging from 2.5 to 36 tonnes in weight.
'Our focus on this latest investment has been on updating our fleet with highly efficient, environmentally friendly equipment,' commented Stuart Jones, managing director of Ridgway Rental. 'Our customers demand the very best tools for the job and we believe Komatsu delivers on this.'
The family-run business has an exceptional working relationship with its customers, having established a first-class reputation for being the first port of call for equipment hire in the construction, civil engineering and, more recently, waste-recycling sectors.
The latest order includes a number of specialist materials-handling machines and wheel loaders that have been tailored to the exact requirements of the recycling industry with waste specifications and safety features, such as fitted solid tyres, high-tip buckets and fire-suppression equipment.
Ridgway Rentals say they have already made an impact in the waste-management industry, thanks to the supply of Komatsu PC210LCD-11 crawler excavators with elevated cabs on a long-term hire contract.
The company has also ordered six Komatsu super-long-front crawler excavators to meet the growing demands for plant hire in the quarrying, waterways and railways sectors. In addition, the new machines will attract environmental agencies and local authorities that continuously work on upgrading coastal defences, flood defences and in more complex and sensitive environments which require this type of specialist equipment.
Many of the 130 Komatsu units will feature technologically advanced equipment and intelligent machine controls. In 2017 Ridgway were among the first plant hirers to offer highly intelligent excavators and bulldozers to their customers, and since then demand for such mobile plant has increased.
The recent fleet order will continue to meet those needs with the delivery of a number of Komatsu D61PXi-24 and D65PXi-18 dozers featuring intelligent machine control.
For added peace of mind the larger machines in the package will come with KomatsuCARE – Komatsu's maintenance programme that covers factory-scheduled servicing for the first three years. This reduces machinery downtime and improves reliability and longevity to deliver the expected life cycle of each unit.