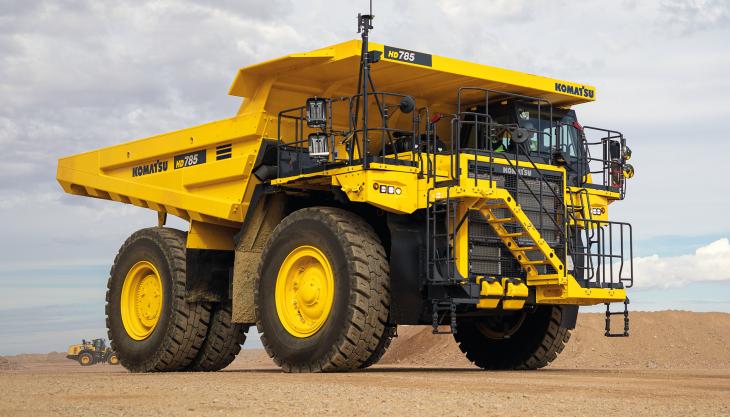 EU Stage V-compliant rigid dumptruck designed for comfort, safety, performance and productivity
KOMATSU Europe's new EU Stage V-compliant HD785-8 rigid dumptruck will be presented on the demonstration ground at bauma 2022. Based on 100 years of Komatsu experience and know-how, the HD785-8 has been designed, developed, and manufactured to deliver the highest levels of operator comfort and safety, along with maximum performance and productivity.
With safety being Komatsu's number-one priority, the HD785-8 is equipped with a full LED lighting system and ground-level battery, starter, and machine lockout disconnect switches, whilst a newly designed stairway provides safe access to the cabin.
For even greater safety, Komatsu KomVision comes as standard, creating a real-time 360 degree bird´s-eye view on the cab monitor and eliminates any blind spots to the rear and sides of the machine.
For operator comfort, the HD785-8 includes a new, ergonomically designed cab with a convenient control layout and a comfortable environment. The new, fabric-covered, air-suspension seat is adjustable to the operator´s weight and height and includes a seat heater and ventilator as standard.
Thanks to a low-noise engine, large capacity viscous cab mountings, hydro-pneumatic suspension, and independent strut type suspension on the front wheels, in-cab noise levels are kept at 72dBA.
Radiator cleaning is easy thanks to the hydraulic radiator fan with reverse mode, whilst the ground level jump start receptacle and service centre with Wiggins fast-fill connection for engine, transmission, brake oil, and coolant refills further facilitate easy and safe maintenance. For safety at height, technicians can attach lanyards to tie-off points (ISO 14567) located around the machine.
Other new features and benefits of the HD785-8 include the Komatsu Traction Control System (KTCS) for maximum productivity, KOMTRAX Step 5 for optimum asset management, and updated KOMTRAX-Plus for convenient machine follow-up and data management.