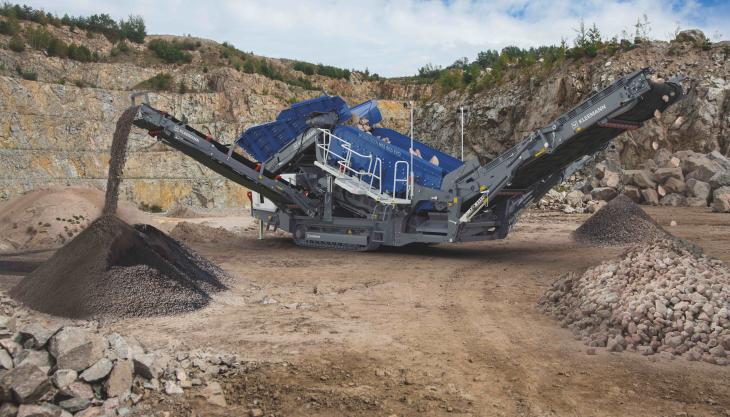 Company introduces new Mobiscreen MSS 802(i) Evo machine for demanding screening applications
KLEEMANN have added the new Mobiscreen MSS 802(i) Evo unit to their mobile screening range to meet the ever-changing and demanding challenges in the processing of natural stone and recycling of construction and demolition waste.  
Replacing the outgoing MS 12 Z screening model, the latest Mobiscreen MSS 802(i) Evo represents a new generation of screening plants for Kleemann, with a major emphasis on operating safety, simple intuitive operation, and a user-friendly maintenance concept. 
An intuitive plant control setup with automatic start, for example, minimizes the risk of operating errors and reduces learning times, whilst all relevant machinery functions can be operated from a safe distance, increasing overall operator safety. Other user-friendly features of the new Evo plant include easier access points and intelligent cleaning solutions to minimize plant downtime.
To ensure the best possible material flow, the new Mobiscreen MSS 802(i) Evo machine has been designed to help Kleemann customers optimize their productivity, reduce operational costs, and tackle a range of screening applications that many other conventional screens cannot.
Key features of the new Mobiscreen unit include: a wide crusher discharge conveyor in which the speed can be adjusted; and a large material transfer system on the screen deck for maximum utilization of screening surfaces. Operators can also choose from a range of optional extended crusher discharge conveyors and telescopic side discharge conveyors for higher discharge heights and stockpiles. 
With a maximum feed capacity of up to 500 tonnes/h, the Mobiscreen MSS 802(i) Evo plant offers not only high performance but also increased mobility and flexibility in demanding screening applications. With its proportionally controlled running gear, the Kleemann machine can be quickly relocated either by a low-loader to the job site or across the construction site.
In addition, the folding of side discharge conveyors without the need for disassembly helps reduce set-up times. Increased application variability is provided by a hopper rear wall that can be folded into three different heights, allowing the feeding of crushing plants with lower discharge heights.
The Mobiscreen MSS 802(i) Evo unit provides a large selection of different screen surfaces whilst screening parameters can be easily adjusted to enhance efficiency and minimize operating costs in a range of applications and feed material types.
The machine also offers a wider screen casing angle with an adjustment range from 15.4–20°, optimizing screening capacity where possible. The Kleemann machine can achieve simple and fast conversion from 3-way to 2-way grit, producing and discharging two or three final grain sizes.