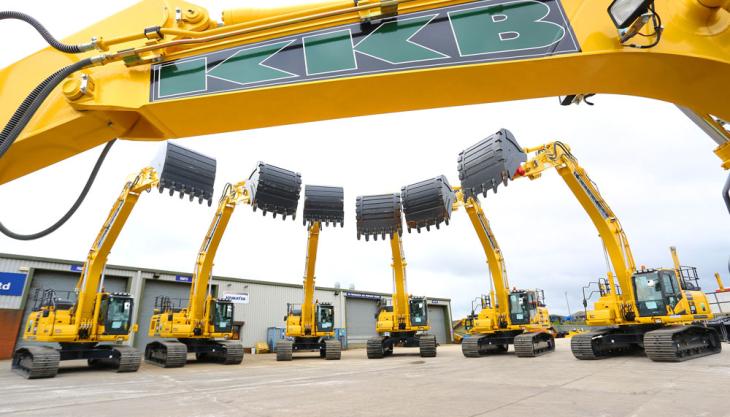 Demolition specialists expand fleet of Komatsu machines to meet demands of growing business 
KENT-based KKB have made a key decision to strengthen their current fleet of Komatsu equipment to support their business plans for the future. The company provides bespoke solutions across many sectors, including recycling, specialist demolition hire, remediation and civil engineering.
KKB already have a fleet of 37 Komatsu machines, ranging from excavators (20 to 50 tonne models) and wheel loaders to articulated dumptrucks. The latest excavators to join KKB's mobile plant fleet include: a Komatsu HB365LC-3 unit and a PC210LCi-11 machine. Colin Basi, CEO of KKB Group, took the decision to invest in the latter model after recognizing a change in the sector.  
He commented: 'Customers want to lower their overheads by reducing the inherent risk of personnel working around machinery while increasing productivity – and the PC210LCi-11 excavator helps achieve this for operators and businesses alike.'
KKB Group continuously strive to invest in the latest fuel-efficient machinery and Mr Basi saw the environmental benefits of Komatsu's hybrid products and decided to purchase the 40-tonne HB365LC-3 excavator. The new machine can save up to 20 litres of fuel per hour and offers ultra-low noise levels compared to standard excavators in the market. 
KKB Group are set to take delivery of a further 17 Komatsu machines this year and nine more units in early 2018. The investment in new mobile plant will help drive the business forward, particularly its plant hire and specialist demolition plant hire services.