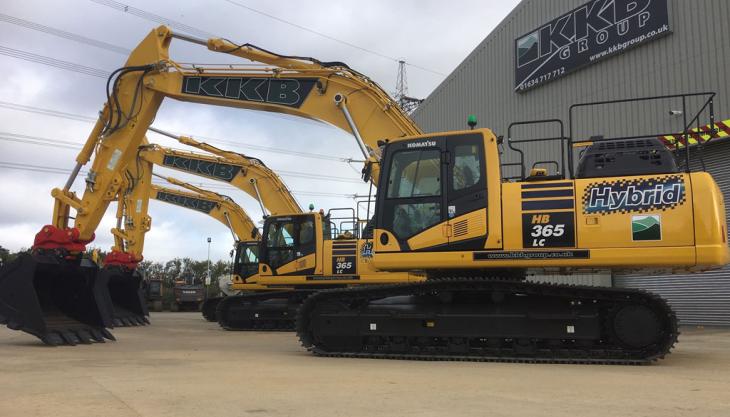 Recycling firm expands earthmoving fleet with a trio of fuel-efficient HB365LC-3 hybrid excavators 
KENT-based KKB Group, specialists in remediation, demolition and recycling, have bolstered their mobile plant fleet with the addition of three new Komatsu HB365LC-3 hybrid excavators. One of the company's long-term goals is to continuously increase the value and environmental performance of the regeneration and built environment process for its customers. 
'We have vast experience of operating large recycling contracts for blue chip clients. Not only do we pride ourselves on providing high-quality recycling solutions and products, we want to be as efficient as possible during the process,' said Colin Basi, chief executive officer of KKB Group. 
'To that end it is vital for us to maintain a relentless level of investment in the latest plant and technology and that is why we have chosen the HB365LC-3 as our hybrid excavator of choice. The three we have recently taken delivery of have gone straight on to our recycling site operations, where they are loading screeners with asphalt to produce a clean range of recycled aggregate products'.
The selection of the Komatsu hybrid model has allowed KKB to meet not only their own environmental and productivity objectives, but also provide a 'green solution' for their customer base. 
'We are responsible for around 1.5 million tonnes of recycled asphalt planings (RAP) a year and not long into the original trial it became apparent that the hybrid technology was a real positive for us and our customers,' commented Mr Basi.   
'It is now our business objective to run a complete fleet of hybrid excavators and diesel/electric crushers and screeners by 2020. Having been impressed with the fuel and emissions savings from our trial machine, we have invested in three Komatsu HB365LC-3 machines, with a plan to invest in eight more by the end of the year.'  
He continued: 'Being able to go to our customers with the first Stage IV hybrid is fantastic for us; the fact that we can also show that these machines offer up to 28% fuel savings makes our proposition even stronger.'
With a large fleet of Komatsu equipment, KKB have taken out KomatsuCARE on all Stage IIIB and Stage IV machines they own and operate, which covers factory scheduled maintenance for the first three years or 2,000 hours, together with an extended full maintenance package from Marubeni Komatsu, ensuring reliability, longevity and the expected life cycle.  
Safety was also a key contributing factor in the selection of the Komatsu HB365LC-3 excavators. Mr Basi said: 'Doing our job as safely as possible is vital and we have had fantastic feedback from our operators on the machine's all-round camera system, KomVision, which provides operators with a real-time bird's eye view of the excavator with four networked high-definition cameras.'