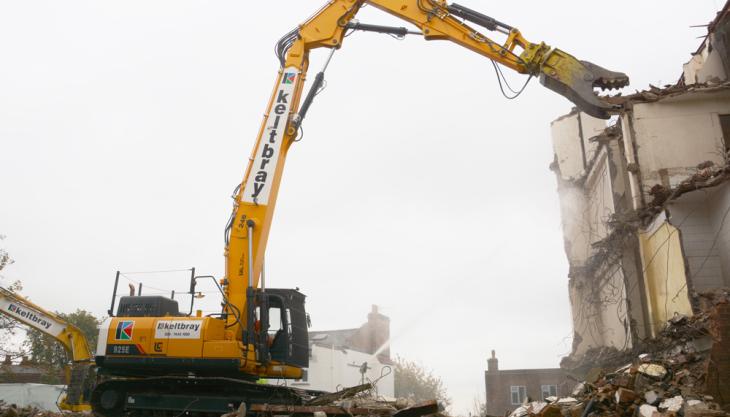 Demolition contractors strengthen mobile plant fleet with new 25-tonne 925E excavator 
PORTSMOUTH-based Construction Plant and Machinery Sales (CPMS), the UK dealers for LiuGong, have supplied the Chinese manufacturer's first high-reach excavator to Keltbray Group. 
The new 925E machine features a bespoke three-piece demolition rig and an additional 2,450kg counterweight, which were designed and manufactured by excavator modification specialists Kocurek, based in Ipswich.  
The bespoke excavator, which has a reach of 16m, has been put straight to work on an environmentally sensitive project in the upmarket area of Hampstead in the London Borough of Camden. The job involved the demolition of an old nurses home, which had been derelict for more than 10 years. Clearing the building will pave the way for the development of 17 luxurious apartments, ranging in price from £1.7 million to £27 million.  
Since delivery, the LiuGong 925E has been well received with Keltbray site manager, Sean Gorham, keen to heap praise on the new addition. He commented: 'I can't find any fault with it whatsoever, as we already run a few conventional LiuGong excavators in our fleet and they have all been very good. The high-reach conversion on the 925E is fantastic; the machine is exceptionally well balanced and it's as steady as a rock in operation even when working over the side carriage.' 
The excavator is powered by a six-cylinder Cummins QSB6.7 Tier 4/Stage IV engine, which produces a gross power output of 142kw (193hp) at 2,000 rev/min. The machine has been modified by CPMS to meet the customer's full demolition specification, including: the addition of front screen and roof guards; LED work lights; fall from height (boxing ring) protection; and an all-round vision camera system offering the operator a full 360° view via a colour monitor fitted in the cab.
Other features include: a bucket ram guard, 10mm heavy-duty under panel guards; and a separate heavy-duty bolt-on side sill protection with integrated impact foam gap.