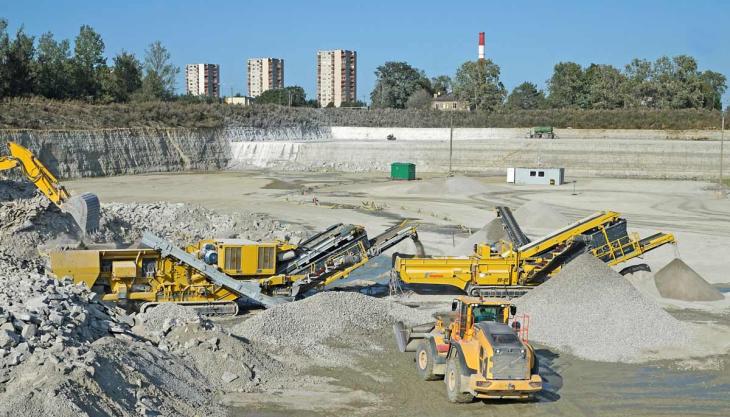 Paekivitoodete Tehas invest in fully electric mobile aggregates processing fleet at Väo Quarry
BELGIUM-based Keestrack, specialists in mobile processing technology, have supplied an all-electric, track-mounted plant combination – comprising a mobile Keestrack R6e impact crusher and triple-deck C6e classifier – to Paekivitoodete Tehas for use at Väo Quarry, in Estonia.
The Tallinn-based company is also a Keestrack dealer for Estonia and Latvia, and today the business has developed into one of Estonia's leading construction materials suppliers, with up to 20% of the country's annual demand for aggregates coming from two quarries that it owns and operates – Väo and Maardu – both delivering a combined 750,000 tonnes of materials per year. 
Paekivitoodete Tehas' decision to invest in a completely new mobile plant fleet from Keestrack was introduced to not only increase productivity and efficiency across their quarrying operations, but also to deliver a low-cost, environmentally friendly operation.  
First, the aggregates supplier had to overcome limited operational flexibility with its three decentralized stationary processing plants in which raw materials and end products had to be extensively hauled by rigid trucks. 
Secondly, Paekivitoodete Tehas had to develop a highly strategic solution to a low-efficiency operation that grew more and more problematic, due to dust and noise emissions moving increasingly closer to the expanding Tallinn residential district of Lasnamäe, which has a total of 120,000 inhabitants.
Following extensive research and consideration of all the leading international manufacturers of materials processing equipment, Paekivitoodete Tehas chose Keestrack to supply flexible and sustainable mobile processing fleet equipment at their Väo Quarry site, where four key sizes of aggregates are produced: 0–4mm; 4–16mm; 16–32mm; and 32–63mm.
Keestrack approach to this project was to spend considerable time, effort and resources to ensure they had fully understood Paekivitoodete Tehas requirements and needs, and then to work closely with the aggregate producer to deliver a new and innovative, multi-purpose mobile plant fleet that could be configured according to the needs of their customers and projects.  
It was also important that the mobile plant configuration of the Keestrack R6e impact crusher and C6e classifier would be a suitable fit for a 375 tonnes/h processing line at Väo Quarry, to ensure that Paekivitoodete Tehas could deliver maximum, uninterrupted production of high-grade end products. 
One of the key drivers behind the company's investment in the Keestrack mobile equipment is the hybrid diesel-electric drive concept of the machines, with the plug-in option to the local electricity grid being the main decisive factor.  
Two 200m long cables from a specially installed 400V transformer station on the quarry floor currently power the R6e and C6e classifier. When the Keestrack mobile processing plants are switched to the grid in full electric operation; this allows for complete emission-free production with the electric motor powering the crusher drive (250kW), pumps for the central plant hydraulics (R6e: 90kW; C6e: 45kW), belt drive and ancillary equipment. 
The plant combination of the R6e impactor and C6e unit has also been specially configured for operational versatility and ease of transportation. If the mobile equipment fleet needs be relocated during the extraction process, each track-mounted machine simply disconnects from the power grid and follows the excavator, using their on-board diesel/generators units. 
According to Keestrack, the R6e impact crusher and C6e classifier will play an important role in Paekivitoodete Tehas' aggregates operation, providing enhanced benefits to customers, locality and the environment. 
As well as lower running costs, thanks to the cheaper grid power available for the construction materials supplier, around 400 tonnes of CO2 emissions will be eliminated annually at Väo Quarry by the all-electric processing alone (excludes haul truck traffic).  
Paekivitoodete Tehas' investment in Keestrack's hybrid diesel-electric and electric plug-in drive technologies came at a total cost of just under €1 million, 35% of which was funded through the Estonian Environmental Investment Center (EIC). 
While it was of utmost importance that quality and operational performance were never compromised at Väo Quarry, Paekivitoodete Tehas are hopeful that the high levels of fuel efficiency, reduced carbon/noise emissions and lower-cost-per-tonne productivity achieved on site will reap substantial dividends over the life of the Keestrack processing plant fleet.