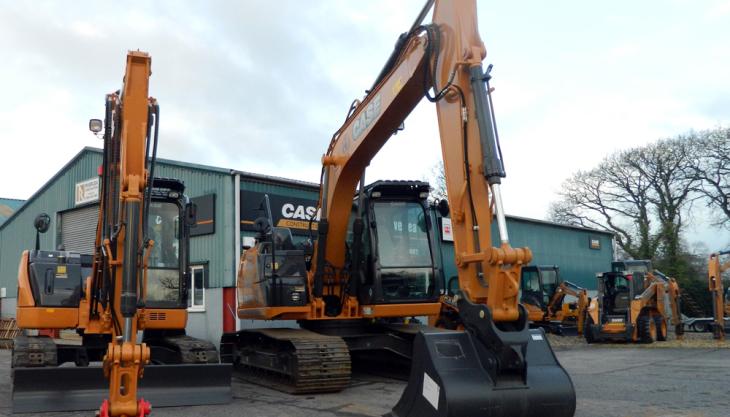 Demolition firm takes delivery of new CX80C and CX130D crawler excavators 
WITH demand for construction equipment continuing to grow across Wales, demolition and recycling contractors J Mousley & Sons have expanded their equipment with the addition of two new Case crawler excavators – the CX80C and CX130D from the new D-Series range.  
The company is no stranger to Case products having operated a range of machines, including: CX16B/CX35 mini-excavators; an 821C wheeled loader; and a CX135SR excavator.   
Supplied by local Case dealers Riverlea Ltd, Julian Mousley, owner of J Mousley & Sons, has clearly been impressed with not only excavator models' performance but also the dealer support and services he receives from Riverlea. 
'We have a very long-standing relationship with Riverlea and they always respond at a short notice if required,' said Mr Mousley. 'Operator comfort and smooth control also played a part in our decision to purchase these two new machines. These qualities are very important when our operators are working long hours.'
Riverlea Ltd advised Mr Mousley of the new technology being used in the machines. Both excavators, for example, are equipped with Tier 4 Final-compliant engines and feature three different working modes – Speed Priority (SP), Heavy (H) and Auto (A) – that help conserve energy and exert only as much power as needed to complete the job at hand. 
Also standard on both machines is Case's auto-idle system, which reduces fuel and emissions by automatically reducing engine speed (up to 1,200 rev/min) after five seconds of machine inactivity. It also automatically turns off the engine when the machine is not working for 5min (adjustable). The advantages for the customer are a reduction in fuel consumption, postponed service intervals and maintained residual value, as the machine accumulates less operating hours.
Mr Mousley commented: 'With their excellent fuel efficiency, safe servicing methods, high-level of operator comfort and ease of operation, and the great service we get from Riverlea, we'll certainly be buying Case machines again.'