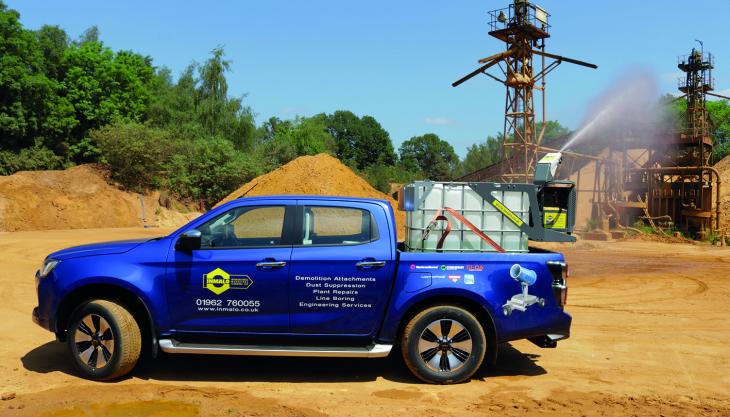 New compact and effective portable Motofog dust-suppression unit available in several configurations
ACCORDING to distributors Inmalo, the new Motofog MFX20 takes portable dust suppression to another level. Without sacrificing the throw of 20–25m, it joins the rest of the Motofog family to ensure there is a solution for every application where dust suppression is needed. In addition, the unit has automatic (or manual) 180° oscillation, two spray patterns (pencil jet and wide spray) as well as a remote-control option.
The MFX20 is also available in several configurations. With its special frame, it can be attached to a 1,000-litre IBC for operation as a self-contained unit, suitable for fitment in a pickup truck for mobile use, such as on haul roads (pictured). It also has a mains water feed and dedicated wheeled frame for easy movement around any site, and it can also be used as stand-alone unit in a more permanent location, without a frame, eg for recycling applications.
Charles Polak from Inmalo said: 'We really do have something for every dust-suppression application. Motofog are known as a quality brand and the MFX20 improves on an already impressive line-up. The MFX20 has taken the innovation a step further; it offers a very capable unit that can be self-contained with 180° oscillation and an option for remote control at a very affordable price.'