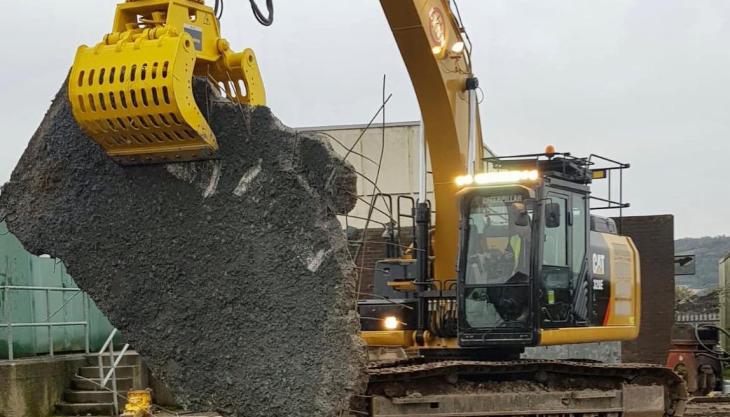 Contractor adds MG1500 multi-grapple and MB 1650 breaker to its equipment fleet  
ON the back of three years of reliable service from their fleet of Epiroc solid body (SB) breakers, IJ Lynn & Sons have continued to invest in new breakers and grabs from Epiroc UK & Ireland Ltd. 
Strong performance, combined with regular back up support and aftermarket services from regional dealers WAC McCandless (Engineers) Ltd, were key contributing factors in purchasing Epiroc's MG 1500 multi-grapple and MB 1650 breaker. 
In addition, having bought his first Epiroc SB unit 152 in 2017, owner Ivan Lynn's positive experience led him to choose Epiroc's equipment again as he knew the attachments would be more productive, requiring less downtime and maintenance. 
Mr Lynn commented: 'We've been using the new breaker and grapple to demolish a waste water treatment plant and then removing the waste from the site. I've been particularly impressed with the MG 1500 R – the rotation unit on the grab makes it so much faster and more flexible than our old grab.'
IJ Lynn have used the MB 1650 hammer to break up the water tanks, moving large pieces of debris to an area of the site, where they can be broken down quickly and easily using the company's Epiroc SB breakers before removing it for recycling. 
Mr Lynn said: 'The MG 1500 is so easy to handle that we can sort hardcore from other materials as we dismantle the building.'
Epiroc's regional sales manager, Donal Cunningham, added: 'Thanks to their particularly robust design, our versatile MG excavator grapples are perfect for demolishing light structures, as well as sorting and loading demolished material. Our SB and MB hydraulic breakers combine efficiency and performance with high durability.'