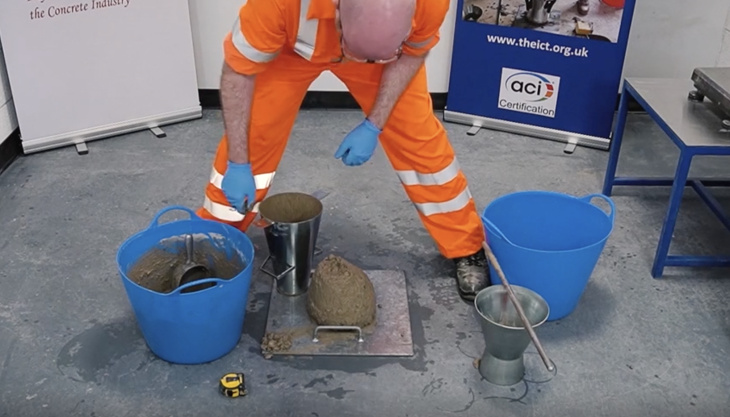 New training videos detail correct performance of tests to recently revised standards: EN12350 and EN12390
THE Institute of Concrete Technology (ICT) has issued a suite of six short training videos setting out in detail the correct performance of standard tests for fresh concrete to the recently revised EN Standards: EN12350 and EN 12390.
The Institute's underlying purpose is to help promote good practice in this important aspect of concrete technology and particularly to support the co-sponsored ACI-ICT certification scheme for concrete field testing technicians to EN Standards.
The tests concerned include slump, flow table, density, air content, and self-compacting concrete/ slump-flow tests, along with sampling, and making and curing specimens for strength tests.
Filmed live in a test lab, each video sets out the requirements for the test being described (including health and safety), illustrates the equipment required, and follows the specified steps with clear commentary drawn from the Standard.
Produced on behalf of industry by the ICT, the videos have attracted the financial support of a range of companies that share the vision of improving practice, along with industry bodies Quality Scheme for Ready-Mixed Concrete (QSRMC) and MPA: The British Ready-Mixed Concrete Association (BRMCA).
The sponsorship of all partners – Brett Concrete, BRMCA, Delmon Readymix, GCP Applied Technologies, Hanson Cement, LKAB, QSRMC, Sika Ltd, TALENT Concrete Training, Tarmac, and Testing & Consultancy Services – is acknowledged with thanks.
Initial feedback has been positive: 'I watched the videos from the ICT website and it was very easy to navigate to them. They are very clean and professional. The narration is easy to understand and the video quality excellent,'… 'The length of each video is perfect to keep everyone's attention and watch over the course of lunch or a break with trade workers too. I could see these being shown during a toolbox talk or morning briefing over the course of a week,'… 'The videos are much needed in the industry. I wish we had these almost five years ago when we first started the concrete work here.'
Free to use, the videos can be found on the ICT website; simply click here and enter your email address to view the videos.