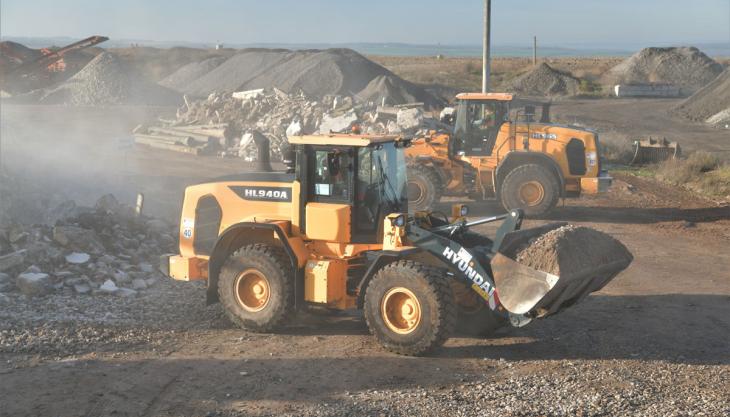 Successful wheel loader deployment of HL900-Series wheel loaders boosts productivity and mobile plant uptime  
SPECIALIST recycling operators Unstrut-Saale-Umweltschutz (USUM) of Steigra, in Germany, are benefitting from the use of two Hyundai wheel loaders at a seven-hectare former industrial site, where the company is producing recycled aggregates (from C&D waste materials), mineral potash fertilizer, soil and compost certified for agricultural use by the German Institute for Quality Assurance and Certification. 
Recently, USUM strengthened their earthmoving machinery fleet with the addition of a new 20-tonne Hyundai HL965 loading shovel to their existing 13-tonne HL940A. 
Both HL900-Series wheel loaders, the HL965 (with a 3.5 cubic metre-capacity bucket) and HL940 (2.5 cubic metre-capacity bucket), are carrying out daily load and haul duties, including assembling and turning compost piles, loading recyclable materials on to trucks and general loading operations and cleaning work.
As well as being fuel-efficient, the loading shovels boast a number of eco-friendly features, including a programmable automatic engine shutdown function that prevents unnecessary fuel consumption and the occurrence of an idling engine.
The machines are also equipped with a standard five-speed transmission with direct-drive clutch and an Eco Gauge, which assists economical operation by providing the operator with a visual reference of the machine's fuel efficiency, average fuel data and total fuel consumption.
For enhanced fuel economy, the wheel loaders come with the ICCO (intelligent clutch cut-off) hydraulic look differential, which reduces loss of power on the torque converter, improving both fuel efficiency and productivity by preventing tyre slip during operation. 
All HL900-Series models incorporate a Hyundai onboard weighing system as standard, which has automatic and manual settings for monitoring individual or cumulative bucket load weights.
For added comfort, the loading shovels feature a 10% larger ROPS/FOPS cabin boasting a fully adjustable seat and an ergonomic working environment. The cabin is also fully soundproof using the latest noise-reduction technology, while an electro-hydraulic control joystick allows operators to handle attachments with ease, resulting in increased productivity and a reduction in fatigue.
Due to the nature of USUM's heavy-duty recycling operations, the HL965 wheel loader has been custom-fitted with SEKA climate-controlled ventilation system which is considered to be an indispensable feature for often odour-intensive waste-recycling operations.
Regional Hyundai dealers Tecklenborg Baumaschinen GmbH have been tasked with undertaking all servicing and repair work on the Hyundai machines, giving USUM additional peace of mind.