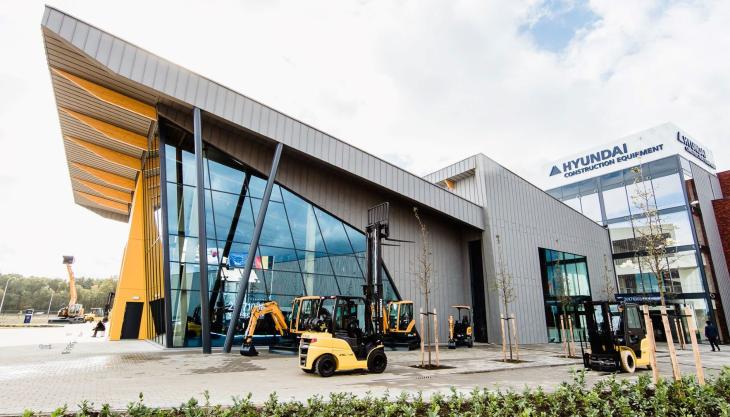 HCEE mark quarter of a century of operations at European headquarters in Belgium
HYUNDAI Construction Equipment Europe (HCEE) are today celebrating 25 years in Europe, having made their European debut in Geel, Belgium, in 1995. The company, which is now located in a new state-of-the-art European headquarters in Tessenderlo, became an independent business unit in 2017.
HCEE's official founding dates back to 7 February 1995, when the business settled in Geel under the name of Hyundai Heavy Industries Europe NV. This name remained until September 2017, when it was changed to Hyundai Construction Equipment Europe NV, coinciding with the move from Geel to the brand new 81,000 sq metre premises in Tessenderlo.
Another key date back in 1995 was 12 December, which marked the start of Hyundai's assembly line in Belgium. Four years later the assembly of machines was reduced, and the company transformed into a European distribution centre – which continues to this day. Today all Hyundai machines arrive in Belgium on roll-on/roll-off vessels and container ships that sail directly from Ulsan, in South Korea, to the port of Antwerp.
Following its success in Europe, the company outgrew its original location after 20 years. The move to the new facility in Tessenderlo in October 2017 allowed HCEE to double their capacity to supply machinery parts, welcome customers and intensify commercial and technical training to their network of distributors. According to HCEE, the move marks another major milestone in the company's path towards its goal to enter the top-tier ranking in the global construction equipment market by 2023.
Commenting on the milestone, Mr Sungwoo Lee, managing director of HCEE, said: '2020 is a big celebration year for Hyundai Construction Equipment. It is the 25th anniversary of the establishment of HCE in Europe, which has always been a key market for Hyundai construction equipment, with its demanding end-users and professional dealers.
'Europe is the benchmark; when you can sell in Europe you can sell everywhere – and Belgium is an excellent location to accomplish this. The country is centrally located with an important seaport and a multilingual work population. For me, this is only the beginning of our successful path to the future.'