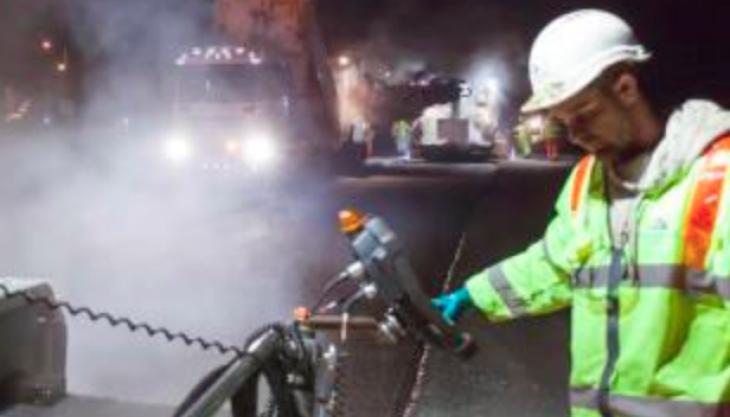 AI Contracting division and Kier win coveted Best Practice award for 'hot-on-hot' paving technique
AGGREGATE Industries are celebrating after picking up the coveted Best Practice award at the Charted Institution of Highways & Transportation (CIHT) North West awards.
The accolade was awarded to Aggregate Industries' Contracting division and Kier, in recognition of the pivotal role the businesses played in the M6 Burton-to-Cinderbarrow scheme.
The AI Contracting business was recognized by the CIHT awards panel for its part in a unique approach to collaborative working and best practice – undertaking the UK's first 'hot-on-hot' in-line paving trial.
A relatively new concept to the UK, hot-on-hot paving involves placing two layers of asphalt – binder course and surface course – at the same time to form a fully homogenous layer.
Paddy Murphy, managing director of Aggregate Industries' Contracting division, said: 'In a bid to address its aim of generating £300 million of efficiencies through its pavement packages, Highways England identified that pavement construction joints were the leading cause of pavement failure.
'Working in collaboration with Kier, we were able to identify the 'hot-on-hot' in-line paving process as a potential solution.
'The benefit of carrying out works in this fashion is that the layers form a fully bonded pavement, creating a single layer out of two different products.
'This not only gives a fully water-tight interface, eliminating any possible bonding failures, but also shows a cost saving due to a reduction in the more expensive surface course material and bond coat applied.'
Andy Withington, Highways England's North West asset delivery manager, said: 'Through our collaborative working methods, the hot-on-hot trial demonstrated the kinds of efficiencies we could be achieving across the industry.
'Not only did the project team make savings through reduced works duration and crew costs, but there will also be huge long-term savings in terms of surface duration and extended road life.
'As we gear up for growth across England's strategic road network, the innovation, collaboration and competitive spirit seen here will be vital to our future success.'