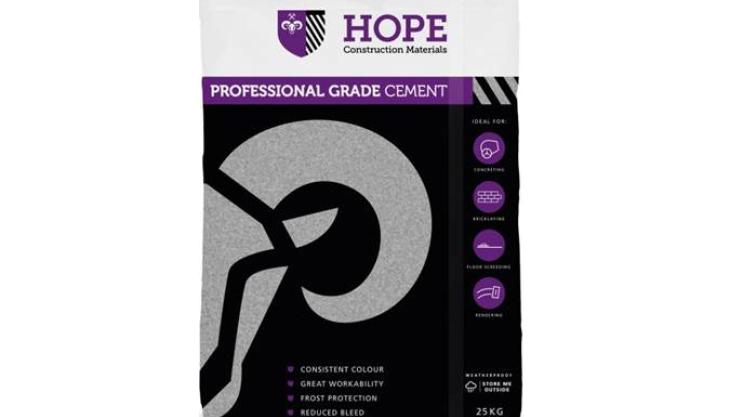 Company's Professional Grade Cement will be available across southern England later this year 
HOPE Construction Materials have announced the launch of their new bagged cement product, which will be available later this year.
As the newest entrant into the UK bagged cement market, which is said to be worth around £180 million annually, Hope's Professional Grade Cement will be available to customers across the southern half of England.
In a nod to the company's Derbyshire roots and the source of the raw materials used to make the cement, the product packaging features a large ram's head design, which is transparent to ensure the consistent colour of Hope cement is always clearly visible.
Moreover, all the bags will be plastic, weatherproof and packed using state-of-the-art equipment, giving merchants and builders the confidence to store the bags outdoors.
Hope cement had previously been available in bags through a third-party supplier, but this launch marks the first time Hope cement will be available in the firm's own packaging.
Hope's Professional Grade Cement and service offering is said to be the culmination of an extensive 18-month research and development process.
The cement will be produced at Hope Works, in Derbyshire, before being transported by rail for bagging and distribution from Hope's new Dagenham plant, which is set to open in the second quarter of 2016.
Gary Brennand, Hope's commercial director for cement, said: 'Hope Works has been making cement for more than 80 years and has an outstanding reputation for consistent quality and service. We are delighted to be able to offer our product in our own branded bag to customers for the very first time.
'For 18 months we have spoken at length to builders and merchants to understand their needs and how we can add value to them. Using this insight we have developed a full package which we believe will redefine the sector.
'We are also pleased that the product launch will see jobs created in the Dagenham area to ensure we are prepared to meet the anticipated demand for Hope Professional Grade Cement.'