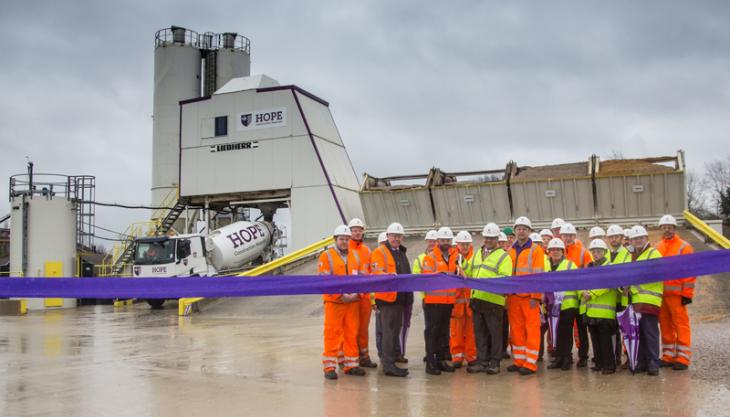 Local MP welcomes company's £1 million investment to improve supply to region's building projects
READING West MP Alok Sharma has welcomed a £1million-plus investment in Theale with the opening of a new rail-fed construction materials depot by Britain's leading independent concrete, aggregates and cement suppliers, Hope Construction Materials.
Accompanied by Hope's chairman, Amit Bhatia, the MP carried out the official opening of the site which sees the company step up its ability to supply construction projects in the Reading area.
Theale Depot has operated as a rail-fed cement depot for 12 years, bringing in cement from Hope's works in Derbyshire, to supply the company's concrete plants in the region. This new investment allows the company to bring in aggregates from its quarry near Buxton.
Moreover, the installation of a new concrete plant means that cement and aggregates can now be mixed on site ready for delivery to a range of building projects in the area, most recently Queen Anne's School in Caversham.
Speaking at the official opening on 22 January, Mr Sharma said: 'Hope Construction Materials' decision to invest in and expand their operations in Theale is good news for the wider construction industry in and around Reading, and is a massive show of confidence in our local economy, once again proving that Reading is an economic powerhouse.'
Mr Bhatia commented: 'We are honoured that Alok Sharma took time out of his busy schedule to help celebrate the opening of our new plant. This facility puts us in an even better position to supply cement, concrete and aggregates to infrastructure developments in Reading and the surrounding area.'