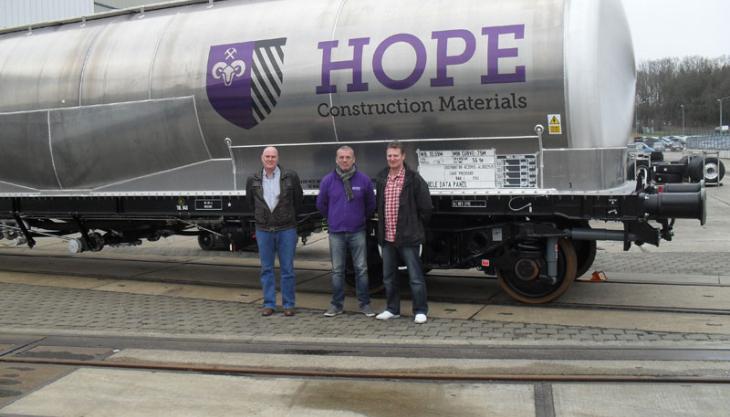 Company investing over £1 million in manufacture and long-term lease of 48 bespoke rail wagons
HOPE Construction Materials have announced a major investment in rail transportation from their flagship Derbyshire cement operation.
The company, which supplies cement to customers across the UK, is investing more than £1 million in the manufacture and long-term lease of 48 tailor-made rail wagons for the distribution of cement from its Hope Works, in Hope Valley.
The wagons are being manufactured by German company Feldbinder and are due for delivery to Hope Works in the autumn of 2015. Once in use, they will improve Hope's ability to consistently transport more than a million tonnes of cement from their flagship plant to depots, including Theale near Reading, Dewsbury near Leeds, and Walsall, for onward road deliveries.
In keeping with the firm's ongoing commitment to improving sustainability, the wagons will be built from aluminium, reducing weight and with it, fuel consumption and carbon emissions. The wagons will also be quieter than other models, utilizing track-friendly bogeys which allow the wheels to turn around bends more easily.
Ashley Bryan, industrial director of Hope Construction Materials, said: 'These new wagons will bring many benefits and help us achieve major improvements in our rail logistics operation.
'They will carry a much larger payload – 80 tonnes in comparison with the current wagon payload of 36 tonnes – meaning fewer trains are required to achieve the same annual volume, resulting in reduced movements up and down the branch line between Hope Works and the mainline.
'Fewer rail movements mean less impact on our neighbours around Hope Works, which is very important to us given our commitment to maintaining a strong relationship with the local community.
'The improved wagon design also makes it easier for our operators to load and discharge cement, resulting in reduced manual handling.'
Ian Shaw, marketing and sales director of VTG UK Rail, added: 'VTG are delighted to be working with Hope Construction Materials on this landmark investment scheme. Once again we are proud to be leading the way in the provision of innovative and sustainable wagon designs which give our customers the competitive advantage they need.'