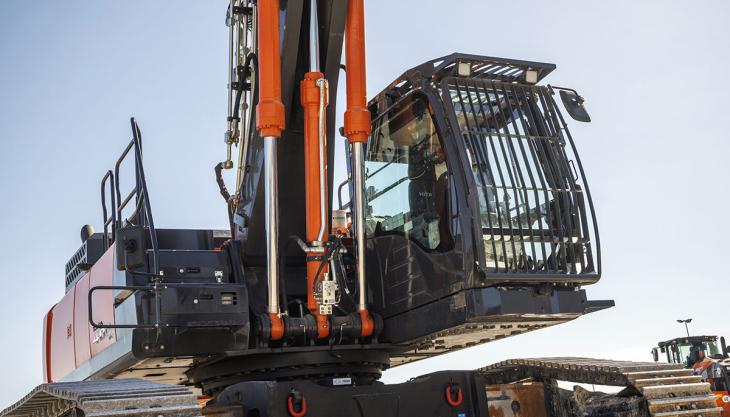 Brand-new Hitachi ZX400MC-7 excavator to make debut at Bauma 2022 
HITACHI have announced that they will be introducing their new multi-carrier excavator – the ZX400MC-7 – at this year's Bauma exhibition in Munich. Designed to maximize efficiency, uptime, and safety on demolition projects, the machine is based on a Hitachi ZX350LC-7 standard excavator, with Zaxis-7 technology and a Stage V-compliant engine.
Supplied with up to four front attachments, including a monoboom, two-piece boom, and high-reach demolition front of 21m or 24m, the ZX400MC-7 has been specially engineered to complete the tasks of several machines on site, which simplifies planning and minimizes costs for transport and personnel.
The excavator has also been designed to boost profitability for business owners/fleet operators by enhancing efficiency on every demolition project it undertakes. The machine is equipped with a full hydraulic control system and both the boom and hydraulic attachments can be changed quickly and conveniently from the operator's seat.
Prioritizing safety, the specially reinforced demolition cab of the ZX400MC-7 keeps operators safe whilst carrying out demolition work in challenging environments. The FOPS level 2 and front window protection, plus P5A glass, for example, protects the operator from falling debris.
The operator also has exceptional visibility thanks to the cab offering a 30-degree tiltable angle. Camera systems show multiple views from the cab, including of the attachment, side and rear of the machine, and a 270-degree view of the surrounding environment. 
Uptime is maximized by the exceptional durability and reliability of the ZX400MC-7. The upper structure has side protection and a reinforced underside for additional robustness. The machine also has bucket cylinder protection and reinforced travel drive covers to protect it in challenging working conditions.
The ZX400MC-7 is one of three special application models that has been developed alongside German company KTEG, as part of the EAC (European Application Center) joint venture with Hitachi Construction Machinery in Japan.
'There is a large demand for 40-tonne class tool carriers in Europe, so we are delighted to introduce this new model to the European market,' commented Burkhard Janssen, product manager special applications and new Technologies at Hitachi Construction Machinery (Europe) NV.
'The ZX400MC-7 will save our customers time and money, reducing the number of machines they need to send to a demolition site, and it will improve performance and safety for operators. We look forward to unveiling it at Bauma in October.'