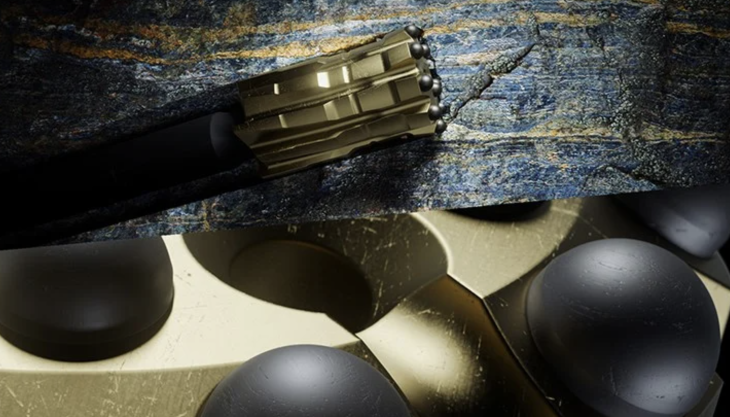 New drill bits double top-hammer service life, reduce costs and improve safety and sustainability
SANDVIK Mining and Rock Solutions are introducing entirely new Heavy Duty top-hammer drill bits for the production drilling and quarrying markets which are designed to help customers increase productivity and improve sustainability through longer grinding intervals and extended service life.
Depending on rock conditions, Sandvik say top-hammer customers can expect up to twice the service life compared with standard bits, as well as lower cost per metre and, ultimately, lower total drilling cost. The all-new design also helps improve safety and sustainability.
'With our Heavy Duty drill bits, we've worked hard to find the optimal design and carbide grades to deliver as much customer value as possible, with regard to both productivity and sustainability,' said Fredrik Björk, product manager for top-hammer surface drills at Sandvik Mining and Rock Solutions.
According to Sandvik, upgrading the current bit assortment with new designs and ground-breaking PowerCarbide grades is part of an ongoing effort to increase customer value. For their Heavy Duty bits, Sandvik have added the self-hardening SH70 carbide grade.
By itself, the PowerCarbide SH70 grade can provide more than 50% longer service life, depending on rock conditions, and combined with the all-new design of the Heavy Duty bits, the product will be tougher than ever, say Sandvik.
Longer service life also creates clear safety and sustainability advantages, including less handling and reduced injury risk, as well as a reduced manufacturing carbon footprint. Sandvik also have their own carbide recycling programme, whereby used carbide inserts can be recycled to increase circularity in the process.
'Including PowerCarbide SH70 in these new drill bits can help our customers achieve much greater drilling results,' said Thomas Blomfeldt, product manager for top hammer at Sandvik Mining and Rock Solutions. 'Playing a part in improving safety and sustainability for our customers is a key priority at Sandvik, and our new Heavy Duty bits do just that.'
The Heavy Duty bits complement Sandvik's current top-hammer bit collection and are now available for both production drilling and quarrying in sizes ranging from 3½in (89mm) to 4in (102mm).