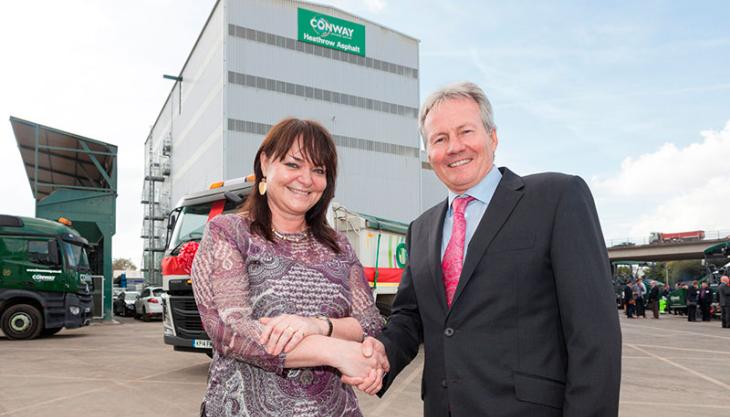 TfL's director of asset management, Dana Skelley, officially opens FM Coway's new asphalt plant
FM Conway's £10 million Heathrow Asphalt plant was officially opened by Transport for London (TfL) director of asset management Dana Skelley on Friday 3 October in front of more than 200 industry leaders from the construction and transport sectors.
Built by German asphalt plant manufacturers Benninghoven, the new plant is one of the most advanced of its kind in Europe and has a production capacity of around 300 tonnes/h, with the capability to use more than 90% recycled materials, making it the UK's most carbon-efficient asphalt plant.
In her speech at the opening event, Dana Skelley (pictured with managing director Michael Conway) called the plant an 'insightful investment' by FM Conway, and 'an asset fit for the future' that will bring major benefits to London including environmental benefits and jobs.
'FM Conway's Heathrow Asphalt plant will help us continue to meet London's needs for well-maintained highways,' she said. 'It is helping London's economic growth, supporting 65 new local jobs; it ensures efficiency in delivery and, therefore, value for local authorities across London; and it demonstrates a commitment to lowering the carbon footprint of our roads through effective planning and recycling.
'What we're seeing is FM Conway demonstrating that they are more than just a contractor – they are committed to the circular economy and to creating a better environment in London.'
Heathrow Asphalt is the second asphalt plant FM Conway have opened in three years, following the opening of their Erith facility in 2011. Both plants are among the most efficient in Europe and combined have the capacity to produce more than 700,000 tonnes of asphalt per year.
The two plants will increase FM Conway's supply capacity and allow the company to self-deliver materials to projects across London and the South East.